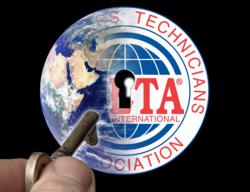 Greencastle, IN (PRWEB) January 15, 2013
Every time a call is made by phone, cable television watched, the Internet accessed, or security alarm system engaged, a connection to complex networks of physical lines and cables connects people with the outside world.
ETA's Fiber Optics Installer (FOI), Data Cabling Installer (DCI) and Electronic Security Networking Technician (ESNT) programs have recently been updated by subject matter experts (SME's), and are ready for public distribution. Updating the competencies, hands-on skills tasks, and knowledge examinations is necessary to certify technicians are current with industry standards.
Thousands of Fiber Optics and Data Cabling professionals holding ETA certifications can be found worldwide as consultants, designers, contractors, technicians, installers, managers, and supervisors and are at the center of businesses, government, military, education and transportation industries.
Being certified as an ETA FOI/DCI professional provides a competitive edge in a truly exciting and rewarding industry. The US Department of Labor predicts job growth at 13% through 2020 with average earnings of $54,290 yearly.
Installers are expected to obtain knowledge of basic concepts of fiber optics and copper cabling installation and service which are applicable to all the functions required to safely and competently install fiber optics communications cabling. Once an installer has been tested on skills, abilities and knowledge, he or she should be able to enter employment in the telecommunications cabling field in industries such as: aerospace, mining, railroad, and transportation. With minimal training in areas unique to the special requirements of individual products or systems designs, the installer has the tools to be a profitable and efficient part of the workforce.
ETA certified ESNTs are responsible for the day-to-day operation of an organization's computer networks and security systems. They organize, install, and support an organization's computer systems, including local area networks (LANs), wide area networks (WANs), network segments, intranets, and other data communication systems.
According to the US Department of Labor, employment is expected to grow 28 percent from 2010 to 2020, faster than the average for all occupations. Demand for these workers is high and should continue to grow as firms invest in newer, faster technology and mobile networks. The median annual wage of network and computer systems administrators was $69,160 in 2010.
ETA certifications are widely recognized and frequently used in worker job selection, hiring processes, pay increases, advancements, and often required as companies bid on contracts. ETA's certifications are personal and travel with the individual, regardless of his or her employment or status change. All ETA certifications measure competencies of persons, not products or vendors.
ETA represents the electronics industry, from the technician and educator to the corporate institution. Widely known for electronics certification programs, ETA helps electronics technicians advance their knowledge, skills and excel in their fields, while connecting employers to qualified electronics professionals. The association's initiatives are to provide a prominent certification program of competency criteria and testing benchmarks that steer international electronics standards and provides renowned professional electronics credentials.
ETA® International - Founded in 1978, Electronics Technicians Association International is a not-for-profit, professional association promoting excellence in electronics technologies through certifications. The association's initiatives are to provide a prominent certification program of competency criteria and testing benchmarks that steer international electronic standards and renowned professional electronics credentials. Today, ETA has issued over 115,000 technical certifications covering more than 70 certification programs in a variety of electronics fields. The association consists of over 5,000 members, 625 Subject Matter Experts (SME's) serving on various Industry Advisory Committees and 1,010 Exam/Certification Administrators (CA's). (http://www.eta-i.org)
Download this press release at – http://www.eta-i.org/pr/ETAupdatedcertifications.pdf.
# # #