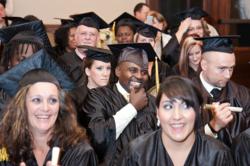 Mississauga, ON (PRWEB) January 03, 2013
National Academy is pleased to announce its 3rd Annual [Shape Your Tomorrow Scholarship Contest. We are awarding someone with a full scholarship ($15,000 value) to any of National Academy's Diploma programs in Healthcare, Dental, Business and Law.
National Academy is accepting entrants for our scholarship until March 31st, 2013. Applicants must simply submit 300 words or less on why they feel that they deserve or need the scholarship and how it will help them.
All applicants will be reviewed after March 31st and the scholarship will be awarded in April. Any applicants who enroll at National Academy between December 20th 2012 and March 31st, 2013 are eligible for the scholarship as well and will be refunded any paid tuition.
National Academy offers more than 15 Diploma programs in Mississauga and Hamilton, including Pharmacy Technician, Dental Assistant, Medical Office Assistant, Police Foundations, Accounting & Payroll and much more. Most classes are available mornings or afternoons, with many evening schedules.
Applications for the Shape Your Tomorrow scholarship can be submitted from http://www.nahb.ca/scholarship