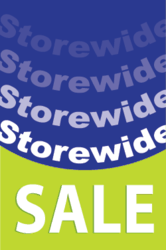 DPS has one of the largest selections of premade posters in the nation.
Glendale, Calif. (PRWEB) January 08, 2013
Digital Pre Press Services, Inc. has officially introduced a new line of poster banner signs to their nationally known website, DPSBanners.com. This is only one step in the multi-step process of expanding product selections available to their customers. This expansion comes in the pre-designed poster banners section of the site.
Customers will gain the benefit of a convenient process when ordering premade Storewide Sale posters through the DPSBanners.com website. Generally, most orders ship within 1 business day from when the customer placed the order online. The process is hassle free including an easy to find product, quick checkout options and not needing to include a graphic – one of the biggest benefits of choosing to order a premade poster sign.
The new Storewide Sale premade posters are offered in bright colors as well as those that are more subdued. This allows for a wide range of business types to order a pre-designed poster. DPS has one of the largest selections of premade posters in the nation. This allows for all companies to find exactly what they need.
The new selection of posters can be ordered in any quantity. Unlike custom posters, premade/pre-designed poster signs can be ordered in as little quantity as a single poster. Although the site lists the most common poster sizes requested by its targeted consumer, DPS customers are able to create custom sizes on premade poster signs as well. For any custom sizing on predesigned products including both posters and banners, DPS asks customers contact the company by phone.
In addition to new product, DPS is currently providing a promotional offer of free shipping on any orders over $149. The company always has something extra to offer their customers and customers can stay up to date with sales and promotions by joining the DPS Facebook page or Following them on Twitter.
For more information regarding the new Storewide Sale poster signs offered by Digital Pre Press Services, Inc., please visit http://www.dpsbanners.com.
About Digital Pre-Press Services, Inc.:
Founded in 1996, Digital Pre-Press Services, Inc. is visible online at DPSBanners.com and on location in Glendale, California. The company provides simple, affordable and professionally designed banners that can be personalized and customized exclusively online. Through the site, DPS has a wide array of products including banner stands, window clings, car magnets, retractable banner stands, sidewalk signs, pre-designed banners and more.
Contact:
Digital Pre-Press Services, Inc.
Toll Free (888) 790-2665
Local (818) 240-2004
Fax (818) 240-3456
http://www.dpsbanners.com
###