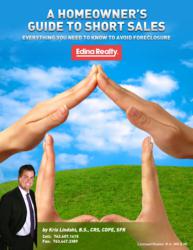 I'm happy to take any questions on the short sale process in general and any specific questions about individual banks and lenders
Blaine, MN (PRWEB) January 03, 2013
Edina Realty announced this morning that Kris Lindahl, their number one short sale agent, will be hosting a short sale strategies meeting in Coon Rapids, MN on Friday morning. Reservations can be made now and walk-ins are welcome. The meeting is expected to be very well attended.
Kris Lindahl will be covering several strategies that a homeowner can use to make the short sale process an easier one. He plans to show the audience how to access and use the three short sale calculator websites that he's created as well as how to download a complimentary copy of the eBook he recently published titled "A Homeowner's Guide To Short Sales."
In addition to going over several online resources Kris will be taking personalized questions for an hour after the meeting. "I'm happy to take any questions on the short sale process in general and any specific questions about individual banks and lenders,"Kris Lindahl says of the meeting.
The scheduled Coon Rapids, MN meeting is part of a larger project led by Kris Lindahl and his team to bring professional real estate information and tools to the general public. Many more meetings and seminars are scheduled for this month and will be announced accordingly.
Call Kris and his team at (763) 607-1415 for more information. Visit the Minnesota Short Sale Calculator website to check eligibility. Download a complimentary copy of the eBook titled "A Homeowner's Guide To Short Sales" and check out the video series on YouTube.