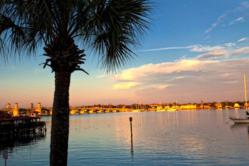 Staying at a bed and breakfast for business travle can help you improve your trip, increase your productivity, and possibly save your company money.
St. Augustine, FL (PRWEB) January 15, 2013
Tired of staying at chain hotels while traveling for business?
Sandy Wieber, owner of the Bayfront Marin House, an award-winning bed and breakfast in St. Augustine, FL, has a suggestion for corporate road warriors: travel comfortably and stay at a bed and breakfast.
"Unless your company has an exclusive agreement with a chain of hotels, or if you have been given a list of "approved" overnight options, you likely have some flexibility in your plans," says Wieber. "Why not use that flexibility to improve your trip, increase your productivity, and possibly even save your company money?"
The key to staying at a bed and breakfast for business travel is doing your homework, says Wieber. The innkeeper, who telecommutes and travels for business herself approximately 40 times a year, has these suggestions to make your stay outstanding:
1. Before you book, check travel websites for the cost of a "standard" business stays in the area. As long as the cost of a local bed and breakfast is within the ballpark of other accommodations, your accounting department should have no problem with the charge.
It also never hurts to ask the bed and breakfast owner if there is a "businessman" discount, says Wieber. If your stay is for just yourself, and if it's during the week, many inn owners will accommodate a lower price.
2. Ask about freebies, and consider them when comparing price. Most bed and breakfasts offer free parking(hotels can charge upwards of $20/day), as well as the free breakfast.
"Check if there are other free amenities," says Wieber. "The Bayfront Marin House offers a free happy hour from 5-7 each day, which includes appetizers, dessert, beer, and wine. When business travelers stay with us--particularly when they are traveling with two or more people--they love the opportunity to unwind from the day without having to add anything to their expense account."
Wieber's bed and breakfast also offers guests free wifi and free faxing, up to five pages.
3. Ask about the wifi signal--is it in every room, or just the common areas? Is it strong in every room?
"Nothing will halt your productivity like a bad internet connection," says Wieber. "Many bnb's are older homes that have been converted to commercial properties, and there can be issues. Always ask."
4. Ask about breakfast. Is it served at a large table? Can guests choose their own time to eat? Many business people begin their day at breakfast--going over presentations, or double checking materials. Being expected to visit with other guests can be distracting for some travelers.
Of course, says Wieber, some travelers love the relaxed feel of visiting while they're traveling for business. If that's the case, ask how often the inn accommodates single travelers. Most innkeepers are happy to introducing single travelers to other guests so that they also feel at home and comfortable.
5. Be flexible. Most bnb's don't have the same amenities as hotels catering to business travelers, but that doesn't mean that they aren't available in other forms.
"Our inn does not have a work out room, but we do have free bicycles that you can use," says Wieber. "They're a great way to exercise, and enjoy our town. Also, we don't have a spa, but we do offer in-room massages and most of our rooms have a Jacuzzi tub, so it's pretty spa-like even without an appointment!"
6. Be sure to mention your specific needs. Ask about anything specific that will be needed during your stay--if it's a phone with a conference call feature, a place to test a presentation, whatever.
"If you know you need it, we'll make sure you have it," says Wieber.
"Many bed and breakfast owners are former corporate employees, so we understand what it's like to travel and be away from home," says Wieber. "we know that a Jacuzzi tub or a scented candle can be a great treat to someone traveling for work--and we always hope that the person will come back later with their spouse!"
Information about the Bayfront Marin House
The Bayfront Marin House in Saint Augustine, Florida is a 15-room, luxury bed and breakfast inn. Located on the Matanzas Bay, the bed and breakfast offers stunning views of the water, hot southern breakfasts each day, along with the highest levels of personalized customer service.