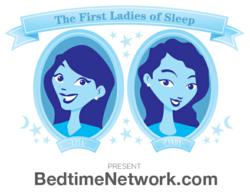 Now for the first time there is a web destination that is dedicated to bedtime and, to making sure that every night from now on is your best night.
New York, NY (PRWEB) January 07, 2013
http://www.BedtimeNetwork.com is devoted to helping women and those they love get a better night's sleep. Combining a lifestyle approach to bedtime and featuring original video programming, the network offers advice on how to create a bedtime ritual that not only improves the quality of sleep but also improves the quality of life.
Bedtime Network is the first internet channel dedicated exclusively to helping people establish better sleep habits shares secrets for falling asleep by providing nightly sleep tips, effective bedtime rituals, mind/body relaxation videos, and the latest news on sleep.
Devoted to helping people fall asleep and sleep better, Bedtime Network is the premiere online resource and community for getting information on all things related to quality sleep.
Bedtime Network's sleep coaches provide practical, expert advice on nutrition, sex, relationships, mind/body, style and decor, beauty and dreams. The website is updated daily with articles across each category with contributions by experts like Elisabeth Halfpapp, the co-founder of the critically acclaimed Core Fusion program and the Vice President of Mind Body Programming at New York City's prestigious and popular Exhale Spa. Other contributors include Wellness Coach and Nutritionist Gayle Reichler MS, RD, CDN; sex therapist Miriam Baker; author, psychiatrist and psychotherapist Dr. Tracy Marks; Janet Kennedy, PhD, a licensed clinical psychologist and founder of NYC Sleep Doctor; Lauri Loewenberg, a certified dream analyst, syndicated columnist, author, popular radio personality and member of IASD, the International Association for the Study of Dreams; author and night owl Amy Guglielmo; author and organization expert Amy Morris, award-winning art director and graphic designer, Billy Cole; freelance writer and consultant, Brian Giebel; pediatric sleep consultant and coach, Brooke Nalle; beauty expert Lynda Eichner; fashion expert, Margaret Berend; relationship expert Dr. Nyiri Grigorian; and super stylist and interior designer Randy Florke, star of "My Flipp'n' Brother," a pilot program on A&E.
Bedtime Network was co-founded by Cindy Bressler, a seasoned media executive and strategic thinker. Cindy blends her business savvy with a strong creative instinct. She is adept at collaborative content creation from concept through production across a range of media, including television, DVD, books and music. Over the years, Cindy has worked to extend both new and established entertainment properties across multiple platforms. Cindy holds a J.D. and an M.B.A. from Emory University.
Lisa Mercurio is the other half of Bedtime Network's founding team, and is the creative force behind the marketing and development of some of the most successful arts and entertainment events to strike over the past two decades. A former senior entertainment executive, she developed the launch strategy behind multi-platinum recording artist Andrea Bocelli, Michael Flatley's Lord of the Dance, Josh Groban and the world-renowned "Three Tenors" concert (debut version, 1991). She has executive produced many recording and television projects including Leon Fleisher's historic return to the concert stage, "Two Hands," and guided the development of the multiple platinum, classical music lifestyle series, "Set Your Life to Music."
Believing that the secret to a good night's sleep lies in what is done at bedtime, Cindy and Lisa have been appropriately titled the "First Ladies of Sleep," and have been hailed "Best of the best," by Entrepreneur.com. The award-winning team is the first to recognize bedtime as a new marketing, entertainment and wellness frontier. Together, they have created the "Bedtime Beats" music brand, a Bedtime Beats series of iHomes and alarm clocks and have been featured in the New York Times and interviewed on CNN.
Bedtime Network's Bedtime Beats® - The Secret To Sleep is an award-winning, musical sleep solution that is based on real science. The sleep music was the winner of Daily Candy's "Sweetest Sound Award," and has been chosen by Heidi Klum as one of her "12 Steps to Better Sleep". The classical and jazz soundtracks have been featured on NPR, Los Angeles Times Health, Parent & Child, The Wall Street Journal, Health, USA Today, Money, Shape and Allure.
In today's busy and complex world, many people have trouble falling asleep and that's exactly why Bedtime Network was created. It is the trusted, go-to source for everything related to sleep and bedtime. Bedtime Network is devoted to helping women (and those they love), get a better night's sleep.
For questions, comments or interview opportunities, use the contact page on Bedtime Network's website, or feel free to call Cindy Bressler at 914-238-8000 or Lisa Mercurio at 212-217-2963.