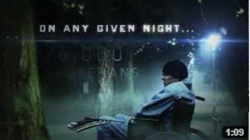 Washington, DC (PRWEB) January 03, 2013
The Disabled Veterans National Foundation(http://www.dvnf.org ), a non-profit veterans service organization that focuses on helping men and women who serve and return home wounded or sick after defending our safety and our freedom, has launched a powerful video that depicts the facts surrounding the American crisis of our veterans struggling with hunger, unemployment, homelessness and disabilities. "On Any Given Night" is now live on http://www.dvnf.org and on The Official DVNF You Tube Channel here in a long and short version.
The video highlights that on any given night in America, 76,000 veterans may be homeless or going hungry on our streets. DVNF leaders hope that the more people who view "On any Given Night" on the Official DVNF YouTube Channel, the more public awareness and action will result. The facts behind homeless veterans show that government programs are not enough to help veterans and their families who are struggling to survive.
"We believe 'On Any Given Night' will help spark more support and action to help those heroes among us who have sacrificed so much for our nation," said Precilla Wilkewitz, President of DVNF. "We hope this video and all we do will add to the nearly two million supporters who have chosen to stand with us as DVNF continues to help spread the word and support veterans' programs so more of our veterans will not go hungry tonight or end up homeless."
While the U.S. Department of Veterans Affairs and President Obama have made it a public goal of ending veterans homelessness by 2015, DVNF hopes "On Any Given Night" helps raise greater public awareness that too many Veterans continue to be homeless or are close to being homeless.
"Our Founders were women who served our country to help disabled veterans and bring an end to veterans issues such as unemployment, PTSD and homelessness," said Wilkewitz. "We hope the power of the web helps more of these veterans and their families who deserve our help." For more, go to http://www.dvnf.org .