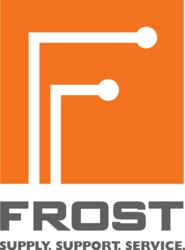 "We're extremely excited to be able to provide a wide breadth of high-quality and economical contractor supplies for hard working people throughout the country," said Jeff Frost, Executive Vice President of Frost Supply.
Saint Louis, MO (PRWEB) January 08, 2013
For more than a century, Frost Supply has provided jobsites and contractors with the affordable tools needed to complete every project— every time. For a very limited time, the preferred lighting supply outfitter will offer reduced clearance pricing on select items of their vast inventory found on their website, http://www.frostsupply.com.
Many of the products included are priced well below Frost Supply's already affordable rates, with some items featuring as much as a 50% discount. Pricing is dependent on the quantities on hand, meaning that customers will receive more savings the quicker they act.
Visitors will be able to easily find products using Frost Supply's robust product database by searching for a product category, manufacturer, part, or catalog number. Each product is available for 24/7 order entry and features in-depth information.
"We're extremely excited to be able to provide a wide breadth of high-quality and economical contractor supplies for hard working people throughout the country," said Jeff Frost, Executive Vice President of Frost Supply. "We're confident that this is a measure our existing customers will appreciate while also introducing our array of solutions to those who aren't familiar with how we can assist them with the completion of their projects."
Frost Supply rapidly ships purchased items to any location in the country while maintaining their reputation as leading the industry in order accuracy.
The special sale features drastic discounts on tools and fasteners from some of the biggest and most trusted brands in the industry, including:

Rotary hammers, laser levels and reciprocating saw blades from Bosch
Job site and temporary lighting
Black oxide, SDS and spline bits
Toggle, combination, and 3-way switches from Leviton
Arc flash clothing, safety and lineman tools from Oberon, Buckingham & Salisbury
Frost Supply also offers easy account, billing, and e-mail invoicing to simplify and streamline bookkeeping for their valued customers.
From estimation to completion, Frost Supply is the preferred project partner. Headquartered in Maryland Heights, Missouri, the results of their superior tools and services can be found in such landmarks as Busch Stadium and Union Station. With the announcement of these promotional offerings, jobsites all over the country now have access to the same standard of excellence to complete jobs more economically and efficiently.
The family owned business has been in operation for six generations. What started out as a company providing electrical supplies found in the first landline telephones has grown into an enterprise that was recognized in May as the "Vendor of the Year" by the Midwest American Subcontractors Association. Frost Supply is the first, last, and only source needed for every jobsite project by offering forward-thinking solutions within:
Electrical
Lighting
Tools
Industrial Automation
Safety
Voice & Data
Every product they sell aims to reduce labor and maintenance costs while lowering long term operating budgets. In short, they offer everything needed to succeed except the workers themselves.
The special savings offer on jobsite supplies will last until the stock has run out. To take advantage of this window of opportunity, those interested are encouraged to visit http://www.frostsupply.com.
# # #
About Frost Supply: Specializing in Electrical, Lighting, Voice & Data, Industrial Automation and their newly expanded Tool, Fastening & Safety division, Frost Supply continues to meet the needs of hard-working folks across the bi-state area as the first, last and only source needed for worksite projects.
Frost Supply's Tool Division features the expertise of Jason Shelts and Peg Crittenden, both formerly of Brennan Tool & Fastening. Regular Sales and Tool Center Hours for all Frost locations are 7am-5pm, Monday-Friday, except for their Maryland Heights location, which operates from 6:30am-5pm. Their knowledgeable staff is proud to serve customers from its headquarters in Maryland Heights, MO and its five full-service retail locations in the city of St. Louis, O'Fallon, MO, Columbia, MO, Collinsville, IL and Lebanon, IL.
For more information about Frost Supply, please contact Nick Arb by calling 314-567-4004 or visit http://www.frostsupply.com.
Frost Supply. Providing unmatched supply, support and service to their customers for over 100 years.