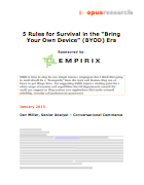 BYOD is here to stay because your employees don't think that going to work should mean a "downgrade" from the gadgets they use every day to get things done.
San Francisco, CA (PRWEB) January 07, 2013
Opus Research, the leading IT analyst firm focusing on Conversational Commerce, has just issued a brief report entitled "5 Rules for Survival in the "Bring Your Own Device" (BYOD) Era. It is a quick reference guide identifying five major considerations that business enterprises must take into account to maintain network quality, integrity and security while accommodating the onslaught of personal mobile devices. The report is made available on a complimentary basis by Empirix.
"BYOD is here to stay for one simple reason," report author Dan Miller, Sr. Analyst at Opus Research, explains. "Employees don't think that going to work should be a 'downgrade' from the tools and devices they use at home to get things done."
Recent studies by IT vendors like Cisco show that over 85% of global corporations with more than 1000 employees already offer varying level of support for employees who use their own smartphones, tablets or laptops into the workplace. Their challenge is to provide secure, reliable and capacious access to the company's wireless network. It is a daunting task made necessary by the advent of an even broader variety of intelligent wireless devices, including Ultrabooks, Chromebooks, e-readers and "mini" tablets.
"Employees at all levels expect high-quality communications while working, no matter what the device, connection or application," said Tim Moynihan, Vice President of Marketing at Empirix. "Technicians in the IT and Networking departments now must manage tremendous traffic loads with unpredictable usage spikes, all while trying to ensure that important real-time communications such as phone calls, customer chat sessions or video conferences, are kept free from static, echo or delays."
To help IT professionals cope, Opus Research offers "Five to Survive and Thrive," meaning 5 rules to help IT organizations prepare for the flood of new devices, applications and traffic levels that come in the wake of the holiday season. It starts with acceptance of the consumerization of IT and preparation of data processing and management resources to detect impending faults and predict usage trends in order to keep the networks working flawlessly.
"Employees expect the network to flat out work," Miller notes. "Network assurance takes on new meaning when thousands of employees are using dozens of different devices and hundreds of applications to get their work done."
The brief report is made available free of charge by Empirix through its Web site or through Opus Research's Web site.
About Empirix: Empirix is the recognized leader in end-to-end network performance visibility. We help service providers, mobile operators, contact centers and businesses master the complexities of transforming and managing networks to enhance customer experience and create profits. The company is uniquely able to provide a complete understanding of how customers experience voice, video and data applications in a single solution optimized for troubleshooting and in-depth service analysis. Through testing, monitoring, analytics and intelligence, Empirix helps companies around the world realize the full value of their technology investments. For further information, please visit http://www.empirix.com.
Empirix, Hammer and Hammer Test Engine are trademarks of Empirix Inc. in the United States and other countries. All other trademarks contained herein are the property of their respective owners.
About Opus Research: Opus Research is the leading IT industry analyst firm focused on "conversational commerce": merging automated speech processing technologies, contact center automation, enterprise collaboration and mobile commerce. For additional information about Opus Research's coverage of voice biometrics visit http://opusresearch.net
Contact Pete Headrick (pheadrick(at)opusresearch(dot)net) 415.904.7666