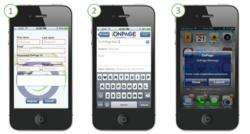 Waltham, MA (PRWEB) January 08, 2013
Onset Technology, the leader in Secure Priority Messaging, recently announced that a pioneering Pediatric Clinic has chosen OnPage™ service as the primary form of priority messaging for its physicians and staff, replacing their traditional paging devices with secure virtual paging on their smartphones.
For over forty years the Practice has provided top-of-the-line medical care for patients ages 0-21. Recently, they decided to make their practice completely electronic to better suit the needs of their young patients. After careful research, they decided to replace their traditional pagers with OnPage's secure, HIPAA compliant, application to send and receive emergency messages, on any smart phone, pertinent to their patient's safety and the organizational flow of their clinic.
OnPage converts any iPhone, BlackBerry, or Android device into a secure, reliable communications system. It combines the benefits of a Pager, SMS, and Email into one easy-to- use application. Additional features such as encryption, continuous alert until acknowledged, automatic receipt and read notification to the sender, time stamped audit trails, and escalation groups make the OnPage application truly one of a kind. The pediatric clinic is excited to utilize the state of the art features of the OnPage system, all while having to carry only one device- their smartphone.
For more information about OnPage, visit the OnPage website at http://www.OnPage.com
ABOUT ONSET TECHNOLOGY
Onset Technology is a leading provider of mobile messaging solutions to organizations with secure priority communications requirements. The company's latest solution OnPage™ turns iOS, BlackBerry or Android smartphones into secure digital pagers with additional capabilities such as massage status notification to the sender and secures messaging to individual, groups or escalation group. OnPage is device agnostic and carrier agnostic, supported by an enterprise-grade secure messaging and paging platform. Onset Technology's OnPage is now used by over 1,000 organizations, including those in healthcare, emergency services, information technology, financial institutions, the legal profession, and government agencies. For more information about OnPage, visit http://onpage.com/ . For other products by Onset Technology visit http://onsettechnology.com/