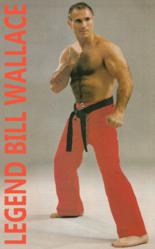 Train with the Legend!
Allentown, PA (PRWEB) January 04, 2013
Leading Edge Martial Arts is excited to announce that "Superfoot" Bill Wallace will be at Leading Edge Martial Arts - Allentown on Sat. Feb 9th for two exciting workshops and autograph sessions.
"Superfoot" Bill Wallace is a martial arts legend.
He was an undefeated full contact kickboxing champion from 1974-1980
He has a professional record of 23 wins, 13 knock outs, and O losses.
Mr. Wallace will conduct workshops for both children and adults. The focus will be on Flexibility, Kicking, and Kickboxing.
Event Schedule: Tickets go on sale Mon. Feb. 9th, 2013.
10:00am-11:30am Children's Workshop: $20
Children must be at least 8 years old or receive special permission to attend.
Only 36 spots available.
1:00pm-4:00pm Adult Workshop: $35
Only 60 spots available.
4:30pm Public Autograph Session: $10
*All Sessions will be followed by a Photo and Autograph Session.
Tickets on Sale Monday January 7th.
Call 610-434-EDGE (3343)