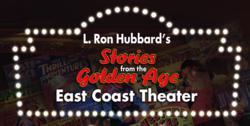 The Golden Age Theater has been reviewed by LA Weekly which called it 'a unique, rarely seen form of family entertainment'
Clearwater, Fla. (PRWEB) January 07, 2013
The East Coast Golden Age Theater invites you to start the new year off right on Sunday, January 13, 2013 from 2-4:30pm in the historic Fort Harrison (210 S. Ft. Harrison Ave., Downtown Clearwater) for an afternoon performance of "They Killed Him Dead," by L. Ron Hubbard.
"Everyone knows that the man was found standing over the body with the smoking gun but is he the murderer? Careful Cassidy thinks he has the case wrapped up until the medical examiner throws a wrench into his 'easy' case."
This performance will feature Hollywood actors - RF Daley and John Mariano. Daley appeared in the feature film "Bridesmaids" and "Big Miracle." In addition to countless regional theater appearances, Daley has narrated over 150 audiobooks and has directed over 200 live readings for Author Services, Inc. in Los Angeles. Mariano is an Emmy Award–winning actor who has worked in film, television, and animation. He has acted in shows such as "NYPD Blue" and "The Young and the Restless."
Tampa Bay actors will include: Tom Godfrey, Joanie Sigal, Dylan Cefail, Colin Taufer, Eric Cefail and Nick Hill.
The Fort Harrison will open its doors at 1:30 PM on Sunday, January 13th. There will be tea, scones, sandwiches, and pastries compliments of the Fort Harrison award-winning chefs. Tickets are free with a suggested donation. All proceeds benefit the non-profit organization – Men of Vision a mentoring organization for at-risk youth.
The East Coast Golden Age Theater was modeled after the Golden Age Theater in Hollywood which started nine years ago. The Golden Age Theater has been reviewed by LA Weekly which called it "a unique, rarely seen form of family entertainment."
The East Coast Golden Age Theater's own Joanie Sigal has been featured on television talk shows such as NBC and CBS.
•To view Joanie's segment on NBC Daytime, view http://www.youtube.com/watch?v=91I0mLEpPuk&feature=email.
•To view Sigal's segment on Studio 10 CBS Tampa Bay, go to
http://www.youtube.com/watch?v=RrzTA8OlOP0&feature=youtu.begat.
Aaron Fodiman, Co-Publisher & Editor of Tampa Bay Magazine, called the East Coast Golden Age performance, "An entertaining evening that features talented actors performing an intriguing story."
For more info or to reserve seats contact Pat Harney at 727-423-0312 or email at pharney(at)cos(dot)flag(dot)org.
About The East Coast Golden Age Theater & Stories from the Golden Age:
Stories from the Golden Age which contains 153 stories all written by Hubbard during the 1930s and 1940s—in genres ranging from Mystery, Thriller, Science Fiction and Fantasy, to Adventure and Western, using his own and fifteen pen names—widely considered America's Golden Age of Fiction. The print version of each work includes the pulp fiction artwork that originally accompanied the story in magazine publication. In addition, each title offers a full-cast, unabridged audio theatrical presentation complete with theme music and sound effects. Started in 2011 and modeled after the Golden Age Theater in Hollywood, the East Coast Golden Age Theater performs live readings of these acclaimed fiction works up and down the East Coast of the United States. For more information on scheduled performances, visit: http://www.eastcoastgoldenagetheater.com.