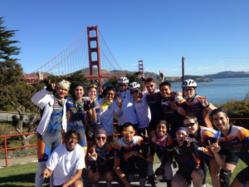 Break down goals in small time-bounded increments to be easily managed.
Austin, TX (PRWEB) January 08, 2013
B>U is a website designed to feature those individuals who do those little things each day to become a greater person for a greater world. It is no surprise that B>U uses the New Year's resolutions to offer these 'best tips' to make sure goals are followed through and achieved.
Create a B>U calendar where goals can be managed. Make the calendar into a form that is easy to view, use and measure progress. There are several goal-setting apps that are for sale or free and easy to use.
Break down goals in small time-bounded increments to easily manage. Remember that Rome wasn't built in a day.
Be realistic. Know limitations and expectations but not at the expense of short-changing the goals or as an excuse to be lazy.
Make it personal. Especially for weight loss or exercise. Find the method(s) that is the most fun or enjoyable.
Find B>U partner(s) to share the journey. Creating a team to challenge and encourage each other can be the best motivator to stay on course for all involved. Many people will continue just to not let the team down.
Show forgiveness. It is OK If the goals aren't met at specific dates or points. The real goal is to not forget or abandon the resolutions throughout the year.
Benny Hsu, founder of GetBusyLivingBlog.com recommends finding a person to help make sure goals are being met on a timely basis.
"Find an accountability [method] to help you stick to your resolutions. Talk to that person once a week to report how you've done for the week."
Another simple way to refer to these B>U 'best tips' to achieving goals is to use the SMART method. SMART goals are those that are specific, measureable, attainable, realistic and time-bounded.
During the process, B>U offers their facebook page and website to post progress and achievements for others to comment and praise. B>U is creating a community of individuals who share the same goal of improving themselves.
About B>U:
B>U is a cause business that promotes and encourages individuals to be greater than themselves for a better world. For more information, go to BGreaterThanU.com.