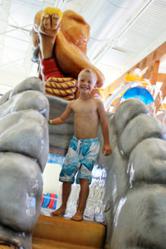 I truly believe that this center has saved people's lives.
Coeur D'Alene, ID (PRWEB) January 09, 2013
Funded by Ray and Joan Kroc, founders of the McDonald's corporation, Kroc Centers are springing up across the country in underserved and underprivileged communities. Most recently, the Coeur D'Alene Kroc Center added a soft water slide for its youngest swimmers.
"Kids love it," says Tony Nubile, Director of Facilities and Operations. "I even see teens playing with their younger siblings on it."
Thanks to a $1.5 billion gift provided by Joan Kroc upon her death in 2004, the Salvation Army has committed to building up to 30 Kroc Centers nationwide. But in order to receive a Kroc Center, a community must first raise 25% of the construction cost itself, proving that residents are committed to using the resources offered by a Kroc Center.
"Little Coeur D'Alene, population 40,000, beat out cities like Seattle, Denver and Spokane for Kroc Center funding," says Nubile. "This community has really embraced the Center."
According to Nubile, when the Coeur D'Alene Kroc Center opened, they projected 3,000 members in the first year. They got 21,000.
"We are managing a small city," says Nubile. "It is unbelievable, the welcome we have received. Clearly, we meet a need in the community."
The 127,000-square-foot Coeur D'Alene Kroc Center includes three basketball courts, an indoor running track, free-weight and cardio fitness rooms, an Olympic-size swimming pool and a recreation pool, as well as many other amenities.
In the recreation pool's zero-depth entry area, Nubile asked PLAYTIME, LLC to provide a "squishy slide" for his littlest swimmers.
Other amenities in the Coeur D'Alene Kroc Center include a game room, an audio and video recording studio, a lodge-style lounge with fireplace, a café, free Wi-Fi, an indoor playground, a child care center and a 400-seat worship theater which doubles as a fine arts performing venue.
"Last year, we provided over $600,000 in scholarships to needy families to give them an opportunity to be here at the Kroc Center," says Nubile. "We have opened our doors to a lot of people who take education classes and improve their health."
Nubile adds, "I truly believe that this center has saved people's lives."
PLAYTIME is the global provider of unique, interactive healthy play areas and playground equipment for indoor, outdoor and water play. The company's themed soft play areas drive traffic and enhance customers' brands. Thousands of families experience PLAYTIME every day at shopping centers, restaurants, airports, stadiums, childcare, healthcare centers, fitness centers, churches, resorts, recreation centers, water parks and museums – any place that kids play.