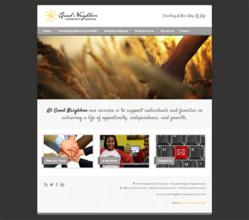 Good Neighbor has always provided quality services and I know you will continue to do so. The clients in the community have a lot of faith in your agency .
Washington, D.C. (PRWEB) January 09, 2013
Good Neighbor Community Services was awarded the "Best of the Best" designation for excellence by Follow Media Consulting, Inc. in the category of Group Homes VA. This award signifies the continued commitment and dedication of the areas best in therapy and residential services.
Good Neighbor takes pride in providing individuals and families with therapy and residential services that will enable them to live a better life . They are also a company that is consistently seeking new and innovative ways to bring the very best in services and resources within the community. Some of these philosophies are what continue to make Good Neighbor Community Services as one of the leading companies in the human services industry.
By working collaboratively with a clinician, clients have the potential to resolve life challenges, improve their ability to cope with stress, and receive the support they need to become the healthiest version of themselves. Good Neighbor Community's services are client-centered so clients will have the opportunity to play an active role in creating and completing a wellness plan that is personally meaningful and customized to meet their specific needs. For more details on their therapy and residential home services, visit their website at http://www.goodneighborcommunityservices.com/ or you can also call them at (804) 520-8005.
About Follow Media Consulting, Inc.
Named one of the best SEO companies by Jonas Marketing, Follow Media Consulting, Inc. is a rapidly growing worldwide firm of SEO, Social Media, and Mobile Marketing Professionals. Follow Media Consulting, Inc. headquarters is located in Richmond, VA. However, our professional team is networked across the world, with regional offices across the United States, in the United Kingdom, Canada, Australia, France, South Africa, the Philippines, and India.