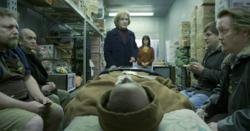 This is an excellent opportunity for filmmakers to showcase their work to a wide LA based audience and an equally unique way for LA audiences to experience fine independent works from filmmakers around the world!
Los Angeles, CA (PRWEB) January 08, 2013
NewFilmmakers LA Film Festival starts the New Year with a bang. From Stanford and NYU graduates to Second City alumni, psychological thrillers to international documentaries, NewFilmmakers LA presents an evening of diverse programming, created by the next wave of talented, award-winning filmmakers, screenwriters, and documentarians making their mark in Hollywood and beyond.
Featured selections in the January 15th 2013 NewFilmmakers program include:
Best If Used By (Dir. Aemilia Scott / USA) - Maggie loves her job at the grocery store, and she loves her boyfriend Max. When she learns that Max died suddenly, she can't cope with the news.
Aemilia Scott makes her directorial debut in Best If Used By, shot on the RED Epic / Red One 4K. A resident of Chicago, she has performed with the Second City and iO Chicago comedy ensembles, worked as a staff writer for Q101FM, and studied photography at Columbia University. A professional photographer, she also writes for the Huffington Post, Salon, and AlterNet.
Best If Used By stars Aemilia Scott as Maggie, Christian Stolte (Chicago Fire, Boss), Peggy Roeder (Groundhog Day, In Memoriam), Will Zahrn, Jack Bronis, and Richard Cotovsky.
Ellie (Dir. Ricky Lloyd George / USA) - Ellie is a strange and lonely girl who we first encounter emerging from a dark tunnel one night. She seeks out human contact.
This screening of Ellie at the NewFilmmakers LA Film Festival is a world premiere.
Before moving to LA, Ricky Lloyd George studied History at the University of Edinburgh and Film at NYU. His short film 'The Stand-in', based on his experiences standing in for Russell Brand during the filming of 'Get Him to the Greek', won the award for Best Short Film at the California Film Festival in 2012. George's first feature film, the horror-drama 'Cora', wrapped production last fall.
Ellie stars Stefanie Estes (When Harry Tries to Marry, Friends (With Benefits), Bonnie Bower, Robert E. Beckwith (Scrubs), Jeff Alba (Witches' Night), and prolific voice over actress Barbara Goodson.
Role Play (Dir. Adam J. Smith / USA) - In 'Role Play' we meet three immigrant actors who grapple with stereotyping in the Hollywood film industry.
Adam J. Smith's filmed documentaries worldwide, including North America, Dubai, Thailand, and China. Originally from England, he holds a BA in Fine Art, and an MFA in Documentary Film from Stanford University. His short documentary, Love & Allegiance, screened at the NewFilmmakers LA Film Festival in 2011 and showcases the reality military couples face while apart. Smith's currently pursuing his first full-length documentary, to be filmed in Ordos, Inner Mongolia.
Role Play features Iyad Hajjaj (Gerard Butler's Thunder Run, Touch), Sahndra Fon Dufe (Yefon, Lost in Abroad), and transgender actress Maya Jafer (Mohammed to Maya).
The Silent Thief (Dir. Jennifer Clary / USA) - The Silent Thief is a fast paced examination of tenuous familial bonds, the human need to belong and the thin line between sanity and insanity.
Jennifer Clary's award-winning feature film The Silent Thief stars Toby Hemingway (Black Swan, The Finder), Cody Longo (Hollywood Heights, Fame), Scout Taylor-Compton (Halloween, The Runaways), John Billingsley (True Blood, Star Trek: Enterprise), Reid Ewing (Modern Family), Josh Pence (Gangster Squad, The Dark Knight Rises), Kurt Fuller (Psych, Midnight in Paris), and Frances Fisher (Any Day Now, The Lincoln Lawyer, Titanic).
Additional selections in the January NewFilmmakers program include:
BO (Dir. Dave Schwep and Kelly McCoy / USA) - Documentary. A vibrant man's terminal diagnosis is the beginning of an unforgettable adventure into the jungles of Peru, through the most forbidding corners of the mind, and down the road to redemption.
Chrome (Dir. Tommaso Paino / UK) - A young man's carefully contained existence is radically interrupted by the death of his mother. This triggers a psychological spiral that causes him to confront his true nature.
The Jackel (Dir. Joseph Mitchell / Canada) - Documentary film. This is the story of former Canadian Kickboxing Champion Ian Jacklin.
Killing of the Alaskan King Crab (Dir. Niki Yang / USA) - A young man takes a psychotic trip to his haunted past.
Upon this Rock (Dir. Stephen Riehl / Georgia) - Documentary. In the Republic of Georgia, a monk has been rebuilding an ancient chapel and hermitage atop a 140 foot rock outcrop near the village of Katskhi. He hopes to become the first Stylite there since the Ottoman Turk invasion six hundred years ago.
For more information and to purchase tickets for the January 15th screening, please visit http://www.newfilmmakersla.com. Film submissions are also currently being accepted for consideration of future screenings.
About NewFilmmakers Los Angeles
NewFilmmakers (NFMLA) is a non-profit providing the LA community of entertainment professionals and film goers with a constant surge of monthly screening events. NewFilmmakers LA Film Festival continues to provide a forum where filmmakers can be recognized for their contributions, have open audience discussions about their projects and connect with industry professionals for insight on distribution, production, acquisition and representation.