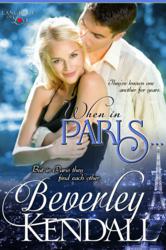 "Packs an emotion punch... Honestly, I didn't think it could get any better, but it did." ~ Kristin, Reviewer
(PRWEB) January 05, 2013
When in Paris... is a tale of transitions, preconceptions, betrayal and powerful pull of unwanted attraction. Readers will follow Olivia, Zach and their friends in the first of a three-book series as they adjust to college life and experience the good, the bad and the heartbreak of relationships while fighting the losing battle of falling in love.
College freshman Olivia Montgomery is thrilled at the chance to start over, escape the rumors that plagued her in high school. And she can finally put her juvenile crush, Zachary Pearson, where he belongs—in her past. Then her unrequited love strolls into her French class, shattering Olivia's newfound peace, and the feelings she'd thought buried for good come rushing back. Now she can't shake her unwanted attraction to the one guy who can twist her stomach into knots with just a smile...but has never given her the time of day.
Zach's good looks may have always gotten him his pick of girls, but it's the star quarterback's skill on the football field that gives him his pick of the Big Ten colleges. To escape the crushing demands of his win-at-all-costs father, Zach opts for a private university in upstate New York where...his present and past collide. And the one girl he's always wanted but can't have—and a class trip to Paris—turn out to be the ultimate game changer that has him breaking every one of his rules.
"College is usually a time when we experience many of our firsts, get a true sense of independence and a time we begin to see our parents as people," Kendall says. "It's a story I hope will resonate with young adult romance readers transitioning to adult novels. For me, writing When in Paris... took me back to a time in my life I will always fondly remember."
Praise for When in Paris
"Loved Loved Loved. , Beverley Kendall has wowed me once again with this very sensualicious (my term) tale of two college kids who fight against the sexual lure they have with each other. It's like an emotional cat and mouse game that keeps you engaged until the end."
~ Reviewer, Emily
About the Author
For as long as Beverley Kendall has been reading, she's always wanted to be a writer. She finally made her dream come true with the publication of Sinful Surrender, a historical romance released by Kensington Publishing. With four historical romance novels under her belt, she decided to expand her horizons and try her hand by writing new adult and contemporary romances. She resides in the southeastern United States with her son where she runs The Season blog and website and is currently juggling writing three series, all in different genres. But she wouldn't have it any other way.
Season Publishing LLC * Available Now * 978-098-380064-4 * $3.99