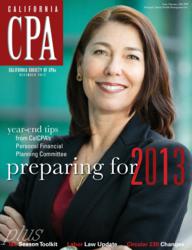 Irvine, CA (PRWEB) January 05, 2013
In the December issue of California CPA magazine, Clarity Wealth Management CEO Gina Chironis, CPA/PFS, recognizes opportunities for CPAs to reduce 2013 tax burdens based on potential tax policy changes in the New Year.
CEO of Clarity Wealth Management, a fee only wealth management firm, Gina Chironis is featured on the cover of the December 2012 issue of California CPA Magazine. Chironis' expertise includes understanding the tax implications of various investment strategies, as evidenced by her position as Vice Chair of the CalCPA Personal Financial Planning Committee. In the magazine, Chironis discusses the tax increases affecting over 90% of Americans in 2013, and offers strategies for CPAs to proactively reduce the tax burden for their clients.
"It's important for CPAs – if they haven't done so already – to reach out to clients now and develop plans and analyze 'what if' scenarios based on what Congress may do to tax rates, exemptions and overall tax policy," writes Chironis. Her article discusses some of these hypothetical scenarios, and offers suggestions for minimizing their impact. Among these, "consider establishing tax-deferred savings accounts, including 401(K), IRA and defined benefit plan accounts for successful business professionals and business owners."
Chironis also advises on how CPAs can help their clients reduce taxable investment income in 2013. "Avoid high dividend paying stocks and reduce capital gains by focusing on a long term investment plan with low turnover."
To read Chironis' article in its entirety and learn more about year-end tax planning, visit the December 2012 issue of California CPA Magazine.
Clarity Wealth Management is a firm of fee only Registered Investment Advisors dedicated to managing the financial complexities in their clients' lives through focused investment strategies.