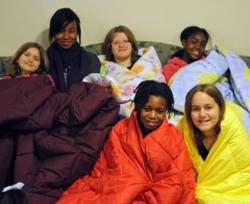 The Company Store has truly become a partner with us in our fight to help homeless families.
Summit, NJ (PRWEB) January 04, 2013
Family Promise, a national nonprofit mobilizing communities to help homeless and low-income families, and The Company Store, a leading online retailer of bedding and home accessories, announced the launch of their 3rd Buy One, Give One campaign. Throughout the month of January, The Company Store will match each purchase of one of their comforters with a donation of a new comforter to a child served by Family Promise Affiliates nationwide. By placing an order, the customer is automatically donating a comforter to a child in need.
In 2011, Family Promise was one of several nonprofits receiving thousands of comforters through the Buy One, Give One program. Last year they were named The Company Store's exclusive partner for the initiative and continue as such in 2013.
"We're so grateful that our relationship with The Company Store continues to grow with Buy One, Give One this winter," says Karen Olson, President of Family Promise. "Through this wonderful initiative, The Company Store has truly become a partner with us in our fight to help homeless families. Bitter cold is merely an inconvenience to most of us but to a family who has lost their home, winter can be a very real threat. These comforters will help by providing both warmth and the comfort of home to children and parents who are facing great challenges."
Karen Feldman, Director of Marketing at The Company Store, said, "We are thrilled to offer our loyal customers the opportunity to participate with us in an act of kindness and generosity when they purchase a comforter. The Company Store is committed to bringing comfort and warmth to thousands of children who are living without a warm bed of their own this winter. We are pleased to deliver these comforters to Family Promise Affiliates across the country."
About Family Promise
Family Promise is the nation's leading nonprofit committed to helping homeless and low-income families achieve lasting independence. Founded in 1986 in Summit, NJ, Family Promise today comprises 182 Affiliates across 41 states and engages 160,000 volunteers from coast to coast. The organization has served more than 500,000 people since its inception, including 50,000 last year alone. For more information about Family Promise and its programs, visit http://www.familypromise.org.
About The Company Store
The Company Store, known for its comfort, design and value since 1911, offers top quality, down comforters and pillows, sheets, towels, and home accessories. . The Company Store sells its merchandise through catalogs and the internet at http://www.thecompanystore.com.