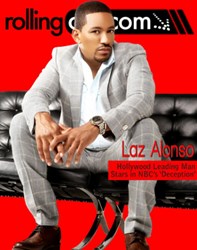 But I wouldn't have been able to do any of that without hard work and determination
Atlanta, GA (PRWEB) January 03, 2013
Actor Laz Alonso is starring in the highly-anticipated NBC drama "Deception," playing FBI agent Will Moreno.
"You may have seen me in movies like 'Fast & Furious' and 'Avatar," Alonso shares. "But I wouldn't have been able to do any of that without hard work and determination."
A travel ambassador for American Airlines and their travel portal BlackAtlas.com, Alonso takes a moment to admire the artistry of the Escadaria Selarón steps in Rio de Janeiro while on a recent trip to Brazil with rolling out's entertainment editor and resident photographer DeWayne Rogers.
"From La Romana [Dominican Republic] to Cabo [Mexico] to Rio, you can always count on a moment where Alonso takes a step back to think about and absorb the blessings of being a serious player in Hollywood," offers Rogers.
Visit rollingout.com to read the interview in its entirety. Be sure to check out the exclusive photo shoot. ABOUT rolling out MAGAZINE/MEDIA
Rolling out, the nation's largest free urban weekly, is a digital and print magazine that focuses on the black experience in response to entertainment, politics, fashion, culture, sports and lifestyle points of interest. Headquartered in Atlanta, rolling out is positioned as the voice for the African American experience, using its newspaper as a platform in the marketplace to express urgency for education reform, and to document entrepreneurial endeavors and other relevant issues in the Diaspora. For information on rolling out, please log on to http://www.rollingout.com.