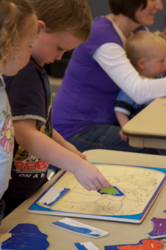 Laughter heals and play teaches, so the play packs are a perfect fit for many charitable organizations whose focus is on families and children.
Bellevue, WA (PRWEB) January 04, 2013
Play It Forward is an annual SimplyFun giving program to help Playologists and party hosts to be able to give back to their local communities. Very simply, when hosts have a qualifying party they may select a charitable organization to receive a donated pack of SimplyFun games… 'playing it forward' from their party to kids and families in need. There is no cost to the host for the pack and SimplyFun takes care of shipping the games to the organization.
The mission of "Play It Forward" is to bring the spirit of giving to the local level, one family and one organization at a time while making PLAY the focus. PLAY is the answer to help kids build academic, social and emotional skills as well as bring laughter back into families that are struggling. Laughter heals and play teaches, so the play packs are a perfect fit for many charitable organizations whose focus is on families and children. Last year, SimplyFun touched over 60+ organizations including the Boys and Girls Club of the Northland, MOPS Monrovia, Pasadena United Reformed Church, Ronald McDonald House, and My Stuff Bags Foundation.
This is a special treat for many organizations as reserves are low at these charitable groups after the heavy holiday draw. Each group chooses how to use the pack. Some put it into direct use at their facility (like daycares, church schools, child support groups), and some break the pack up using some for fundraising auctions to help provide financial support. Regardless of how it is used, the point is that it is for a group right in the host's backyard. It's timely, its' local and for a group the host is passionate about. Their choice!
SimplyFun believe's that the children and the families are the foundation of local community development and the future. The most impactful way to share the benefit of the products is through person-to-person relationships.
Since SimplyFun's inception, giving has been a strong focus in the company's corporate culture. SimplyFun employees volunteer their time regularly at Treehouse (the local foster care support organization) located in Seattle. My Stuff Bags is another organization that is close to the heart of SimplyFun employees. Playologists and customers provide donations that helps My Stuff fill the bags that are then given to a foster child in need when they are taken from their homes. "Play It Forward" is a natural extension of the giving spirit and gives individuals the opportunity to make it more personal.
People can easily participate in "Play it Forward" by contacting a SimplyFun Playologist or contacting the SimplyFun home office at 1-877-557-7767. Just hold a qualifying party during the month of January, pick an organization, and watch the play begin!
By hosting a SimplyFun qualifying party, the Playologist or Host will be able to donate one or more $100 play packs of games to a charitable organization of choice in the local community. These packs are in addition to the normal host benefit programs and require nothing more from the host than a name and address of the organization. SimplyFun will take care of the rest!
Follow SimplyFun on Facebook and Twitter. Visit the website.