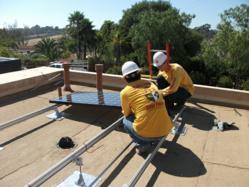 We are grateful to be in a position to provide the gift of solar energy to families who need financial relief from high electricity costs most.
San Diego, CA (PRWEB) January 03, 2013
This new year will begin bright for five lucky San Diego County families. As a result of a successful 2012 Solar Holiday Drive, led by Sullivan Solar Power, a handful of low-income families will receive free solar panels for their homes. Just before the thanksgiving holiday, Sullivan Solar Power announced a partnership with California nonprofit organization, GRID Alternatives.
GRID Alternatives installs solar in communities that may not otherwise have access, with its' Solar Affordable Housing Program. The organization mobilizes job trainees and other volunteers, providing hands-on experience installing solar panel systems. As a part of the partnership, Sullivan Solar Power team members will be volunteering their time to assist the GRID Alternatives team with the donated projects.
"GRID Alternatives is thrilled to have partnered with Sullivan Solar this holiday season to bring the gift of clean green power to families who really need the savings," said Paul Cleary, Regional Director of GRID Alternatives.
For every San Diego county resident that signed up to go solar with Sullivan Solar Power between November 21 and December 31, the company is donating one solar panel to GRID Alternatives. Collectively, 46 locally manufactured Kyocera solar panels will be installed on low-income residences at no cost to San Diego homeowners as a result of Sullivan Solar Power's solar holiday drive and its' donations to GRID Alternatives.
"The initiative ended more successfully than we had envisioned. We are blessed and grateful to be in a position to provide the gift of solar energy to families who need financial relief from high electricity costs most," said Founder and President of Sullivan Solar Power, Daniel Sullivan.
About Sullivan Solar Power
Sullivan Solar Power is a turnkey solar system provider that delivers solar electric projects from concept to completion with offices in Orange, Riverside and San Diego counties. The company has installed more than 10 million watts of solar power ranging from residential to large commercial and municipal systems. Sullivan Solar Power has a longstanding A-plus rating with the Better Business Bureau, with no complaints filed since its founding in 2004. The firm has been named one of the nation's fastest growing energy companies by Inc. Magazine and services clients throughout Southern California. Regardless of project size and scope, Sullivan is committed to delivering the best products provided by the most qualified professionals to every customer. Visit sullivansolarpower.com for more information.
About GRID Alternatives
GRID Alternatives is a non-profit organization that brings the benefits of solar technology to low-income communities. Using a barn-raising model, GRID Alternatives leads teams of volunteers and job trainees to install solar power on qualifying homes, providing needed savings for families struggling to make ends meet while preparing workers for jobs in the fast-growing solar industry. More than 1800 families have received solar systems through GRID Alternatives to date, and nearly 10,000 individuals have gained hands-on experience in solar installation, helping prepare them for jobs in the industry. For more information about GRID Alternatives San Diego, visit http://www.gridalternatives.org.
###