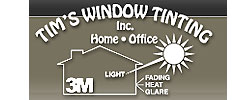 Dollar for dollar, window film is the #1 product you can install to save energy in your home, said Tim Miller, President of Tim's Window Tinting, Inc.
Lewisville, TX (PRWEB) January 15, 2013
Tim's Window Tinting has embarked on an ambitious education campaign designed to provide both current and future customers with all the information they need to make an informed decision about window tinting. The concept of window film (best known as tinting) involves applying a thin film to windows that allows you to see out while still being protected from the harmful rays of the sun.
The sun's UV rays are notorious for damaging carpets, upholstery, wood furniture, painted walls and wallpaper, and decorative wood trim, but infrared and visible light are equally as damaging. Window Tinting protects your draperies and shades from sun damage and provides a measure of security by preventing others from looking in through your windows. In a commercial or office environment window tinting reduces glare, making it easier to see computer screens.
Tim's Window Tinting has been serving the Dallas Metroplex area since 1989. Tim says the company's commitment to customer satisfaction is their top priority. They are more than happy to provide further information about window film and tinting over the phone or through an in-person visit. Customers can also find much of the information they need by visiting the company's website. Tim's Window Tinting carries products for full sun control, security, and decorative purposes.
About the company:
Tim's Window Tinting Inc has been serving the metroplex since 1989. Our personalized service before, during and after your installation is second to none. Your satisfaction is our most important priority. We will educate you about window film/tint so you can make an informed decision and the best choice for you home or office. We carry a full selection of sun control (Night Vision & Prestige), security (3M Ultra) and decorative films (Fasara). Call us at 972-829-6109, or Toll-free at 800-689-8468.