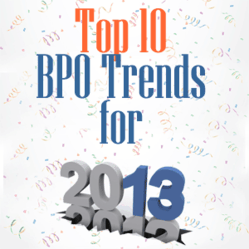 El Paso, Texas (PRWEB) January 04, 2013
DATAMARK Inc., a leading business process outsourcing firm headquartered in El Paso, Texas, has named its Top 10 Business Process Outsourcing Trends for 2013.
The evolution of mobile computing and social media continue to be major drivers behind the changing face of business process outsourcing and business process management. Other tech trends that will affect the industry over the next year include The Internet of Things and the collection and analysis of Big Data, which will be used to improve business processes.
Also, the geographic advantages of locating outsourced business processes in the U.S. means domestic outsourcing will repeat as a top trend for 2013.
Below are 5 of DATAMARK's top BPO trends, in no particular order:
1. The opening of private app stores.
As workers connect through tablets and smartphones, enterprises will distribute custom and off-the-shelf apps through private app stores. BPO/ITOs will do the same, inviting clients to visit their private stores for apps that monitor business processes and collect useful data. Easier said than done, however. 2013 will be the year where IT departments begin to figure out hassle-free ways to distribute apps to clients, contractors and authorized partners.
2. Contact centers stay social 24/7/365.
A recent study by LinchpinSEO found that customers like to engage with their banks on social media on Sundays, a day when brick-and-mortar financial services are typically closed. Customer relationship managers will have to break away from this "closed for business" mindset and post in social media networks every day of the week, every time of day. Competitive BPOs will leverage global centers and customer-contact reps with multiple language skills to deliver 24/7/365 customer service via Facebook, Twitter and other channels, bringing some to clients some "weekend peace of mind."
3. Gamification goes social.
As we mentioned last year, gamification—using game concepts to drive courses of action—will liven up boring, repetitive business processes, as well as deliver incentives for improvement. Good enough, but in 2013, gamification will stake a place on social networks. BPO workers will post their progress, improvements and rewards on internal social media channels, adding more fuel to the competitive fire across the organization.
4. Domestic outsourcing moves beyond anecdotes.
Whether it's domestic outsourcing, insourcing, onshoring, ruralshoring or whatever term suits your fancy, some solid data on the trend will emerge in 2013. Outsourcing business processes in the U.S. (and nearshore to Mexico and Canada) will be an attractive option as growing wages in traditional outsourcing locales such as India and China make the U.S. more competitive destination. Organizations will recognize the many benefits of being geographically close to target markets.
5. BPO makes a run for the border.
Mexico will continue to be an attractive business process outsourcing destination over the coming year. This is in part because of the advantages delivered by geographic proximity, but also because the Mexico of 2013 is much different from the Mexico of 1994. Statistics from the Organisation for Economic Co-operation and Development (OECD) show Mexico is steadily improving in many rankings, including labor productivity growth, infrastructure spending, post-secondary education enrollment and broadband access. The headline-making cartel war, while still a concern, has spared multinational business activity.
For the full article, read "10 Business Process Outsourcing Trends to Watch in 2013."
About DATAMARK
DATAMARK, Inc. is a leading business process outsourcing company specializing in high-volume digital mailroom management, document processing and document management services for Fortune 500 firms and other large organizations. Headquartered in El Paso, Texas, DATAMARK employs nearly 2,200 people in its U.S., Mexico and India facilities. For more information, visit http://www.DATAMARK.net
###