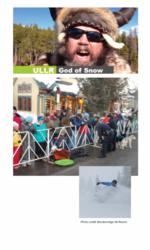 ULLR, who's MOJO seemed to return has visited in the last couple of weeks; in fact, ULLR dumped a foot of snow in 24 hours in Breckenridge.
Breckenridge, CO (PRWEB) January 04, 2013
The 50th Annual ULLR Fest is January 6 – 12, 2013 in Breckenridge, Colorado.
One might ask themselves, who the heck is ULLR? In Norse mythology, ULLR is a son of Sif and a stepson of Thor. ULLR appears to have been a major god in prehistoric times and has been a celebrated character in Breckenridge, Colorado for the last 50 years. ULLR is the Norse God of Snow, as legend has it, has many skills. He was the god of skiing, archery, hunting, and was known to be quite promiscuous (which he may have inherited from his mother Sif, the Goddess of Fertility).
His name, which means glorious or dazzling, clearly reflects his abilities and myth has it he once held the seat of the highest god. His character, and the legends associated with it, are detailed throughout the tales of the Vikings, Goths, Saxons, and ancient Britons.
Travelers know ULLR when they see him. His Norse helmet, adorned with horns, is complimented by his long, dreadlocked hair, a very healthy beard and raucous attitude. Of course his body is draped in skins of unlucky fox and other furred animals, wrapped with leather. It is said that ULLR was such a great skier that he would streak across the sky leaving the brilliant stars as his, much like fresh powder on virgin slopes.
Travelers from near and far, as well as locals convene on Mail Street to urge ULLR to bring the best powder to Peaks 7, 8, 9 and 10. The revelry is further encouraged by adult beverages, and as the night wears on, the attendees become more fervent in urging ULLR to bestow snow upon Breck. Clad in Norse helmets, fur and beads, one can hear the crowd chanting, "ULLR, ULLR, ULLR!"
ULLR, who's MOJO seemed to return has visited in the last couple of weeks; in fact, ULLR dumped a foot of snow in 24 hours in Breckenridge — and he didn't stop there. He's still bringing in winter storms, with 15 inches accumulating at Breckenridge Ski Resort in the last seven days.
Back in the day, stories are recanted that offerings were made publicly to ULLR. Old ski equipment, boots, ski pants, virtually anything to do with the sport was offered to the Norse God in the form of a bonfire. Talk to a local who's been in town longer than 20 years and they'll tell you some pretty wild stories.
We spoke to David Garrett, owner/operator of Ski Country Resorts who's celebrating 25 years in business about the tradition of ULLR. "ULLR has been a tradition here in Breckenridge and we celebrate his coming every January. We have a float that we run in the parade that's truly in the spirit of the season. In fact, we decided to create a special offer this year to commemorate ULLR. Buy 2 nights of lodging and we'll throw in the 3rd night free! You can't beat that for an ULLR deal!"
The tradition continues and with any luck, ULLR will be a benevolent God this winter.
Photo credit: Breckenridge Ski Resort.