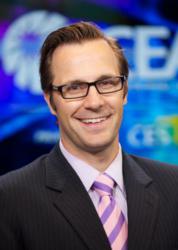 "As smartphones and tablets become the viewfinders into our digital lives, CES 2013 has evolved to become more of a mobile technology event -- and the largest app show in the world."
Las Vegas, NV (PRWEB) January 07, 2013
ExpertFlyer.com®, the premier online air travel information tool, which now offers its award-winning Seat Alerts® feature as a free iOS and Android app to all travelers, went One-on-One with Shawn DuBravac, Research Director at the Consumer Electronics Association (CEA), which hosts the annual Consumer Electronics Show (CES) each January in Las Vegas. CES is the largest annual trade show in the United States and according to Shawn DuBravac, this year's show will be the largest CES ever, thanks to the continuing growth in mobile technology including mobile phones, tablets, software, and apps. On the eve of CES 2013, ExpertFlyer sat down with Shawn DuBravac to get his perspective on mobile technology and how it is changing the way we travel, communicate, and interact.
Mr. DuBravac began the interview by saying the consumer electronics industry showed a growth rate of about 6% in 2012 thanks to the increased use of mobile technology. In early 2012, CEA reported that 20 percent of consumers owned a tablet. Today, ownership is about 33 percent and is expected to grow to about 50 percent by early 2013.
DuBravac also noted that for the first time, smartphones are used for something other than voice communications, crediting the development of mobile apps that have converted smartphones into a remote control for nearly every aspect of consumers' lives. "The beauty of smartphones today is we could have the same phone, but because of our ability to uniquely customize our mobile devices with state-of-the-art apps, your phone and mine could offer a completely different user interface and capabilities based on our personal needs," Mr. DuBravac explains. "There are so many apps that convert your smartphone into something else. From travel apps to help find the best deals and keep track of expenses, to remotely managing baby monitors, starting your car or securing your home, the smartphone has become a central hub for accessing everything that is important to us."
"As the Research Director for the Consumer Electronics Association, Mr. DuBravac brings a very interesting perspective to mobile technology, and how we will interact with our smartphones and tablets in the future," says Chris Lopinto, president and co-founder of ExpertFlyer.com. "This year's Consumer Electronics Show should provide great insights to the next generation of mobile communications products and the apps that allow us to do just about anything from our mobile devices."
DuBravac believes that tablets and smartphones have become the viewfinder into our digital lives. Consequently, he now sees manufacturers designing products and their mobile counterparts in parallel.
To read the entire interview with Shawn DuBravac at the Consumer Electronics Association, please visit ExpertFlyer's blog.
About CEA
The Consumer Electronics Association (CEA) unites 2,000 companies within the consumer technology industry. Members tap into valuable and innovative members-only resources: unparalleled market research, networking opportunities with business advocates and leaders, up-to-date educational programs and technical training, exposure in extensive promotional programs, and representation from the voice of the industry. For more information, please visit http://www.ce.org
About ExpertFlyer.com
Each month, ExpertFlyer's One-on-One blog goes face-to-face with the travel industry's leading decision makers to discuss and address topics relevant to many of today's business and frequent travelers.
ExpertFlyer.com was conceived and created by an eclectic team consisting of a veteran elite tier frequent flyer, an airline captain and corporate travel manager, and information technology professionals to deliver a 24/7 real time powerful air travel information service. The company provides its subscribers and corporate travel managers alike with a complete, concise and efficient way to access the ever-changing details of worldwide air travel information. For more information, please visit http://www.expertflyer.com.
# # #