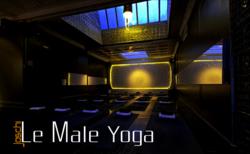 Le Male Yoga is inspired by the variety of men who come into the studio.
New York (PRWEB) January 08, 2013
Le Male Yoga in New York City opened its doors as NYC's first and only male-only Yoga Studio in 2012 and now, only a few months later, expands its schedule to accommodate the growing demand.
Taking a bold new direction by creating a Yoga Studio for Men, Joschi Schwarz -- owner of Le Male Yoga -- is inspired by the variety of men who come to the studio with excitement as well as laughter to experience the intimate and provocative new concept. Schwarz's eye to redefining the yoga industry has paid off, men are flocking to the new studio and enjoy a real community of men who want to initiate a lifestyle that liberates, expands and energizes while working out and connecting with each other.
Le Male Yoga focuses on men's unique body blueprints, specializing in classes for men to build on their specific strengths and weaknesses. Power Flow Yoga embodies the masculinity of yoga for men and gives men the opportunity to practice in a safe, yet challenging and fun environment.
Naked Tantric Yoga is a sensual experience for men to practice yoga without the restriction of clothing and leave their inhibitions at the door. As French philosopher, Michel de Montaigne, noted, man is the sole animal whose nudity offends his own companions, and covering the body is one way in which we hide ourselves and our stories from the world. Practicing yoga in the nude helps Le Male Yoga's students work with self-esteem, self-image and self-confidence.
About Joschi Le Male Yoga:
Le Male Yoga is for fit men who aim to initiate a lifestyle that liberates, expands and energizes. Le Male Yoga offers Tantra and Vinyasa Yoga to give fit, in-shape and athletic men a unique opportunity to recharge their body, update their mindset and celebrate life.
Le Male Yoga provides a welcoming and real community for all men - gay, straight or bisexual - who enjoy fitness, communal bonding, socializing & having fun in a safe and judgment-free atmosphere.
Explore Power Flow Yoga for a high-heat, high-energy workout, Tantric Yoga to tap into your sexual core energy and Yogassage to enhance the body's erotic potential. Whether students are beginners, advanced practitioners or somewhere in between, LMY offers something for every man. Le Male Yoga offers one-of-a kind classes, workshops, retreats and teacher training programs in New York City and around the world.