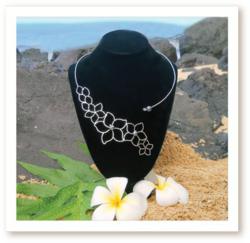 Kolohe Gurl Jewelry is a modern interpretation and says it's okay to step out of line and take risks to be you.
Kailua, Hawaii (PRWEB) January 03, 2013
Kolohe Gurl Jewelry (http://www.kolohegurl.com) is offering a warm welcome to attendees of GBK's Luxury Gift Lounge in Honor of the 2013 Golden Globes Nominees and Presenters with its exquisitely handcrafted sterling silver "Plumeria Maile Leaf Neck Cuff." The piece will showcased at The Artisan Group exhibit, and the company's "Plumeria necklace with Black Pearls" will be nestled inside The Artisan Group's coveted celebrity swag bags. The Gift Lounge takes place January 11-12, 2013 and will be held at an exclusive Beverly Hills, California location.
Renee Eleu Rokero, designer/owner, Kolohe Gurl Jewelry, created the "Plumeria Maile Leaf Neck Cuff" especially for the Golden Globes. The necklace interprets the traditional Hawaiian Lei as a graceful gathering of four Plumeria flowers accented with a frond of Maile (my-lee) leaves, all in brilliantly polished sterling silver. Rokero says Plumeria flowers are admired for their beauty, while the intoxicating fragrance of Maile leaves is matched only by the leaves' symbolic significance in Hawaiian culture.
"In designing the "Plumeria Maile Leaf Neck Cuff," I took a slightly over-the-top approach, incorporating just enough bling to match the celebratory nature of the Golden Globes," said Rokero. "This is an expressive piece that is feminine, stylish and a bit sexy." Watch the Kolohe Gurl Jewelry slideshow video and see more Kolohe Gurl.
Kolohe Gurl Jewelry is whimsical, chic and slightly edgy and appeals to women who aren't afraid to break the rules. Rokero explains the term "Kolohe" is often used in the context of reprimanding a child caught in a naughty or mischievous act. "Kolohe Gurl Jewelry is a modern interpretation and says it's okay to step out of line and take risks to be you," said Rokero. "Our motto is, 'Embrace your inner Kolohe girl!'"
The signature element of Kolohe Gurl jewels are the hand-formed sterling silver or 14k gold filled flower petals (often Plumeria or Cherry Blossom) Rokero creates and uses singly or joined to make eye-catching, energy-filled bracelets, earrings, pendants and rings. Rokero fabricates her Plumeria Flower jewelry using a free-form style and finishes them with traditional metalsmithing techniques like forging and hammering. "I don't use templates, molds or gadgets. My secret weapon is my God-given hands," Rokero says, smiling.
The flower petal shapes are impressive for their flowing beauty and for their meticulous soldered joints. "I'm sometimes called the soldering queen," laughed Rokero. Although people appreciate the technical aspects of Rokero's work, she is happy to say her jewels also create an emotional connection. "Every Kolohe Gurl design has to be visually mind-blowing yet delicate, airy and feminine. This is what creates the energy or power; in Hawaiian, we call it Mana—that calls to people."
Rokero founded Kolohe Gurl Jewelry in 2008 but comes from a creative family and has been practicing art of one form or another all her life. She is also a dual careerist. In addition to being a jeweler, she is also a well-known and respected marriage/relationship therapist. She believes there is a natural connection between the two, which lies in their ability to transform and impact people's lives.
To learn more about Kolohe Gurl Jewelry or its participation in The Artisan Group's celebrity gifting initiatives visit its website, follow it on Twitter (@kolohegurljewel), or become a fan on Facebook. For press inquiries about The Artisan Group visit http://www.theartisangroup.org or email press(at)theartisangroup.com.
ABOUT KOLOHE GURL JEWELRY
From the tropical island of Hawaii comes Kolohe Gurl Jewelry (http://www.kolohegurl.com). Native Hawaiian jewelry designer Renee E. Rokero creates original wearable art jewelry that is delicate, airy and emotionally engaging. As a self-taught artisan, Renee started her creative journey at an early age, learning the craft at the lap of her artsy parents. Creating together as an Ohana was as natural as breathing and Renee's idea of childhood play. Today, Renee has become known for her kinetic pinwheel rings and copyrighted plumeria and cherry blossom designs, with each petal meticulously hand-shaped and no two flowers alike. Handcrafted in Hawaii and definitely a labor of love, Kolohe Gurl Jewelry is no ordinary jewelry!