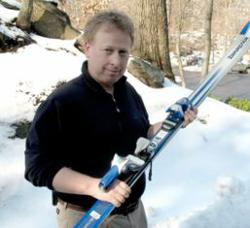 -learn about the causes- and ways to prevent- common skiing injuries-
Armonk, NY (PRWEB) January 07, 2013
On Wednesday, January 16, at the North Castle Public Library, orthopedic surgeons Dr. Steven Hindman and Dr. Tim Greene, physical therapist Chalon Lefebvre, PT of the ONS Foundation for Clinical Research and Education in Greenwich, and ski and snowboard experts from Hickory and Tweed in Armonk will present a free seminar on ski and snowboard injury prevention. Winter sports lovers of all ages and levels of experience are invited to attend "Ski Conditioning and Injury Prevention" to learn about the causes- and ways to prevent- common skiing injuries. The seminar will include tips for safe skiing and demonstrations of conditioning and strengthening exercises to prepare your body for skiing and snowboarding. Information on treatments for injuries such as a ruptured ACL and skier's thumb will be discussed, including surgical and non-surgical approaches. Equipment experts from the outdoor ski and cycle shop Hickory and Tweed will talk about the importance of equipment fit and maintenance and will show the latest innovations in skis, boots and snowboards.
The free seminar is open to the public and will take place at the library, located at 19 Whippoorwill Road East. Check in and refreshments will begin at 6:30 p.m. and the program will start promptly at 7 p.m. Registration is requested. To register, call 203-869-3131.
ONS Foundation for Clinical Research and Education, Inc. is a registered not-for-profit, 501(c)3 organization devoted to understanding the causes and optimal treatments of orthopedic injuries and musculoskeletal conditions. The Foundation's education initiative, strives to reduce the incidence of sports-related injuries in adolescents and adults, by presenting sport-specific injury prevention programs for athletes, coaches and the aging population. The office is located at 6 Greenwich Office Park, 40 Valley Drive, Greenwich, CT. For more information, go to http://www.ons-foundation.org.
Hickory and Tweed, at 410 Main Street in Armonk, NY is the area's premier ski and cycle shop serving Westchester and Fairfield counties and the New York City metro area for more than 50 years.
The North Castle Public Library, located at 19 Whippoorwill Road East in Armonk, NY, serves the town of Armonk and surrounding communities. They also have a branch in North White Plains. To reach the library, call (914) 273-3887.