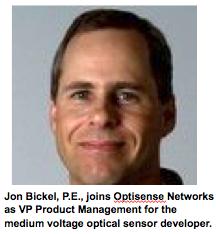 I am excited to be joining Optisense, says Jon Bickel, P.E. Utilities today are focused on safety, reliability, efficiency and asset management. New technologies, like Optisense, are the backbone of achieving these goals.
Plano, TX (PRWEB) January 08, 2013
Optisense Networks™, developer of medium voltage optical voltage and current sensors for electric distribution systems worldwide announced today that Jon Bickel, P.E. has joined Optisense Networks as Vice President of Product Management.
With more than 25 years experience in engineering, product management and technical consulting in the utility and manufacturing industries, Jon joins Optisense Networks at a critical time for the Smart Grid industry.
"I am excited to be joining the Optisense team," says Jon. "Utilities today are focused on safety, reliability, efficiency and asset management. New technologies are the backbone of achieving these goals, especially in light of new efficiency and reliability initiatives being introduced by regulatory agencies across the industry."
"Optisense's innovative voltage and current sensors provide distribution engineers with the ability to identify and quickly resolve system issues. They also improve the system efficiency by optimizing voltage and current levels between substations and energy consumers. Optisense sensors provide knowledge, control and analytics, which are critical needs in today's Smart Grid solutions," Bickel notes.
Jon Bickel brings diverse industry experience to Optisense Networks including power generation, distribution engineering, power quality, and metering development. Jon has filed 30 patent applications with the US Patent and Trademark Office, is an IEEE Senior Member, and has published many articles on energy and metering-related topics both globally and domestically.
Formerly, Jon was responsible for developing energy and reliability metering instruments for Schneider Electric / Square D Company. As a Senior Edison Expert and Intellectual Property specialist for Schneider, Jon led product development of new monitoring systems, invented new metering technologies, authored multiple thought leadership artifacts, and was an international speaker and trainer within the electric distribution industry.
During his fourteen years with TXU Corporation, Jon contributed to distribution and power quality engineering through a dynamic time for TXU – as the company transitioned from a vertically-integrated generation and distribution company to become a retail energy provider. During this time, Jon designed and directed large electrical distribution projects, conducted technical investigations of power quality/reliability issues, and managed many large commercial and industrial energy consumer accounts in the Dallas/Fort Worth area.
"Optisense is excited to have Jon and his utility system engineering expertise join our optical sensor team," notes Stephen Prince, CEO Optisense Networks. "This century will see global communities collaborating in all aspects of their lives via smartphones. Utilities must meet these global collaboration demands through cost-effective power usage, new analytic technologies, and reliable systems. I'm confident that Jon's expertise in engineering and intellectual property will allow our clients to gain this critical system intelligence beyond the substation."
About OptiSense
Founded in 2001, OptiSense (http://www.optisense.net) provides utilities patented, state-of-the-art compact optical voltage and current sensors that increase electric distribution system reliability and efficiency through intelligence beyond the substation. Working closely with electric utilities, these next-generation sensors enable electric power companies to effectively monitor and manage distribution voltage, current and power factor in real-time.