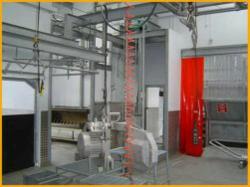 Auction sale of 400 lots of primary and further meat processing equipment to be sold
(PRWEB) January 04, 2013
Pro Auction are instructed to offer for sale meat processing equipment at Ensors Gloucestershire, following relocation of the business to a state of the art facility in Cinderford.
The auction sale follows granted planning permission for the extension and alteration of an industrial unit in Forest Vale Industrial Estate, for Ensors to develop a state-of-the-art new abattoir and meat processing plant, Ensors is a family owned business that has operated in Cinderford for 76 years.
The former site will go under the hammer on the 17th January 2013, with over 400 lots of primary and further meat processing equipment available.
In addition to lairage & abattoir equipment a number of lots for further meat processing ,surplus to the requirements of the business, will be auctioned at the event following the purchase of specialist meat wholesaler, Browns Foodservice which was purchased by Ensors Gloucestershire from the Brakes Group in August 2011.
Ensors foodservice, retail packing, sausage making and bacon curing arm is already operating from the new plant at Cinderford and the slaughter operations commenced in December 2011.
The auction sale offers a comprehensive range of equipment for abattoirs and processing plants of all sizes, both within the UK and Europe offering a wide variety of lots for livestock slaughter, processing, chilling and rendering for a vast range of livestock species.
Primary equipment from Bitterling, Lockerbie & Wilkinson and Kentmaster feature in the sale along with leading manufacturers such as Thompson, Reiser and Handtmann featuring within the meat processing machinery to be offered for sale.
The auction will be live and webcast from the site commencing at 10.30am on the 17th January 2013 through specialist auctioneers Pro Auction with a preview of the lots available on the 16th January from 8:00am.
Full details of the lots offered for sale, to the view the catalogue or arrange a viewing please visit http://www.bidspotter.co.uk
Mark Flynn, director at Pro Auctions, envisages strong interest in the sale from slaughter operators, meat cutting plants and farmers throughout Europe, but in particular in the UK where the number of abattoirs has been gradually declining for many years, due largely to commercial forces that have steadily changed the structure of the meat industry.
Pro Auction Limited are one of the leading specialist valuers & auctioneers in Europe providing a comprehensive range of services to ensure that the full value of surplus or redundant assets are realised, to maximum value, be that by a private treaty, tender or auction.