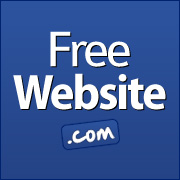 New York, NY (PRWEB) January 05, 2013
Earlier this week FreeWebsite.com published an article detailing why it is important for business owners to learn about creating a website.
"Websites are the lifeblood of your business," said a FreeWebsite.com representative. "Creating a website is no longer an option for any business that wants to survive in today's competitive economy."
Freewebsite.com makes it easy for business owners to create a website. The company provides professional, attractive business packages that scale up as the business' needs grow.
"Creating a website is simple with our company," the representative said. "Not having money is not an issue because we offer free sites to help make it easy to create a website no matter what their budget is."
Users don't have to know HTML or fancy programming languages to create a website with Freewebsite.com. Freewebsite.com is user friendly so not knowing complicated computer programming is also no longer an issue when it comes to creating a website.
To learn more about creating a website read the article at: http://www.freewebsite.com/creating-a-website/
About FreeWebsite.com: FreeWebsite.com breaks down barriers to website ownership by providing attractive, easy to maintain websites, complete with content, at a low price. To learn more, visit FreeWebsite.com