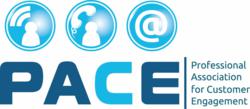 Indianapolis, IN (PRWEB) January 11, 2013
The Professional Association for Customer Engagement (PACE) announced today that Customer Contact Center Networks (C3N) has merged with the association, effective December 31, 2012. Through this merger, PACE now expands its regional outreach to include 12 Chapters. This new Chapter of PACE will be named Kentuckiana and includes the greater Louisville, KY and surrounding areas.
"After researching and meeting with many different associations and organizations, we chose to join PACE because of their commitment to industry advocacy, unsurpassed legislative expertise at the federal and state levels and proven industry leadership. PACE's track-record of industry excellence is unequalled and our current membership is excited to join this world-class association," stated Sanford Berenberg of Marsh and McLennan Companies and the Chair of the C3N Executive Committee.
"Having C3N join PACE tops off an unbelievably exciting year for customer engagement and this association," commented Phil Grudzinski, CEO of PACE. "The goals and visions of both associations were closely aligned and this merger allows both organizations to expand networking and business development opportunities for our members. We continue our mission to become a stronger network of professionals for our members."