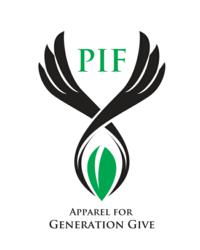 If we (the donors) want to truly impact change we have to stop waiting for an invitation.
Toledo, OH (PRWEB) January 09, 2013
Pay It Forward (PIF) Apparel recently released posted their plan for positive world change that is not only realistic but completely relevant when looking at today's non-profit sector. "How Millennials Can (and should) Change The Way We Give" is the title of PIF's recent entertaining and educational commentary on how donors can make a bigger impact for the cause that they are passionate about.
PIF Apparel promotes its line of fashionable t-shirts to attract "Generation Give", a group of millennials that will eventually act as the next generation of high net worth donors. While the company uses it's inspiring line to spark the interest of its target market it is clear that the company has an alternative agenda. A look at the company's mission statement helps to give some perspective.
The mission: "To positively impact the world's most desperate causes by connecting the next generation of donors with the best run charitable organizations in the world." is followed up by the company's game plan to fulfill the mission:
Step 1 – Identify the most effective way to positively impact the world's most desperate causes
Step 2 – Education and Awareness
Step 3 – Provide a simple and effective way to START making a difference
Step 4 – Encourage a movement of role models for an exponential impact
The plan that company lays out in the recent blog points to how individuals can make more of an impact but also touches on the frustrating truth that not all non-profits use their funding to support the cause that they represent to the extent that many people are led to believe.
In addition to the educational and awareness aspect that the company brings, Pay It Forward also raises money for several worthy non-profits that have an exceptional track record in terms of financial stewardship. For every sale, PIF donates 25% to a non-profit that the customer selects. When asked "why not more?" the company's CCA (Chief Change Agent) stated the following:
"Our decision to promote our company as one that gives 25% of each sale has to do with transparency and relates directly with our core values. 25% of the sale is measurable; a customer knows exactly how much is being donated to their favorite non-profit. Whereas if we were to say 100% of the profits are donated, it would mean nothing in terms of the impact. 100% could mean $0.00 if our operating expenses happen to eat up all of the profits."
More information about the company can be found by visiting on the web.