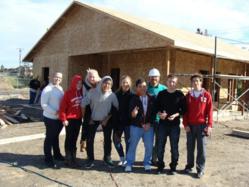 Babylon, NY (PRWEB) January 04, 2013
Eight students from all different corners of globe met in Pasco, WA on October 13th to participate in a country wide, foreign exchange student initiative called Project H.E.L.P., an International Student Exchange offshoot which focuses on community service and outreach. Working with the famed Habitat for Humanity, students from countries such as Brazil, Ecuador, Germany, Thailand and Japan worked together to help protect newly constructed homes in the Pasco area from the often brutal storms in the Northwest region.
The site on which the students worked will at its completion contain enough structures to support twenty families, and when asked, each student was eager to offer their insight on how their contribution helped the community and gave them a sense of satisfaction, knowing they could something back to the people that welcomed them into their country. "It was hard work," said representative Sharon Burns, "but it was good for the cause and the [students] got to meet new friends."
Most of the tasks completed by the students on that day were measures intended to weatherproof the newly constructed buildings from the harsh weather that often descends upon the Northwest in the fall and winter months. These tasks included caulking the joints and seams inside the frames of the homes, and helping to insulate the house from the inside out.
The students hope to participate in a second round of Habitat for Humanity projects early in the next year. "Hopefully we will get to work in home that has heat," remarked one of the South American students. "It will be very cold here in January."
Each participating student earned six to eight hours of community service for their efforts, and though their program asks that they only complete five, each student has energetically agreed to be ready for the second go-round when the day arrives. One of the German students remarked, "I am sorry to be going home at the end of the year. We had so much fun today that I would like to come back for the next one."
International Student Exchange, Founded in 1982, is a non-profit organization that brings together people from all different cultures and creeds. Located in Babylon, NY, ISE is helping to educate tomorrow's leaders one student at a time.