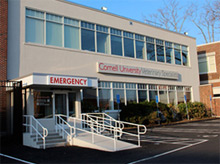 Stamford, CT (PRWEB) January 08, 2013
People who own and love their pets understand the time and stress that goes into caring for them when they are sick. Cornell University Veterinary Specialists, popularly known as CUVS, is one of the most well-known veterinary referral hospitals in the country and makes their services available 24 hours a day, 7 days a week.
CUVS is the country's largest university-affiliated veterinary referral center and it has redefined the concept of Connecticut vet specialists and emergency pet hospital by bringing the very best veterinarians of the two worlds together. CUVS is able to provide excellent medical care with the integration of the latest scientific and medical technology, while collaborating with the pet owner in order to provide personalized care. It is solely an emergency and referral pet hospital, but does not offer general practice; instead, CUVS recommends veterinarians who are associated with the hospital as an extension of the practice. The doctors that are associated with CUVS are extremely qualified with extensive post-doctorate training to specialize in an area and offer the best care possible.
The services offered by CUVS include emergency and critical care, cardiology, internal medicine, surgery, ophthalmology, oncology, minimally invasive treatment, interventional treatment, and nutrition.
Regarding the services offered by CUVS, a marketing executive associated with the vet hospital stated, "We understand that any emergency involving a pet is extremely upsetting and stressful for pet owners. For this reason, our specialists go above and beyond what is considered the norm for pet care. Our doors are open 24 hours a day, 7 days a week to be as accessible and accommodating and possible. Each member of our team has extensive knowledge and experience regarding animal medical care; this, combined with genuine compassion and concern, is what separates our treatment from any other emergency animal hospital. To provide the highest quality of care, we employ Board certified ECC specialists who manage ICU patients and can also be consulted on cases, both externally and internally."
He added, "Our ER doctors work in tandem with critical care personnel, in order to offer seamless treatment and communication throughout an animal's visit. Our brilliant specialists and quality service have made us the excellent provider that we are—I would trust CUVS with my pets any day."
For details, visit http://www.CUVS.org/