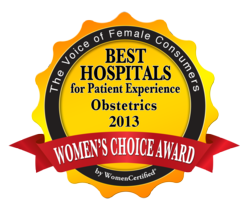 We are proud of those hospitals recognized for taking ownership of their customer experience and creating an environment that offers the best in healthcare services
Hollywood, FL (PRWEB) January 04, 2013
WomenCertified®, the collective voice of female consumers, has announced its list of hospitals earning the Women's Choice Award in the area of obstetrics care. The award is based on robust criteria that include female patient satisfaction measurements as well as clinical excellence considerations. WomenCertified represents the collective voice of female consumers and is a trusted referral source for top businesses and brands identified as meeting the needs and preferences of women.
Hospitals qualify for this highly selective annual list based on an in-depth proprietary scoring process. The scoring incorporates a national, standardized survey of patients' perspectives of hospital care reported by the U.S. Department of Health and Human Services (Hospital Consumer Assessment of Healthcare Providers and Systems) and an analysis that weighs criteria identified as the most important to women for patient satisfaction. Additionally, the scoring incorporates WomenCertified's in-depth research on customer satisfaction among women, including a joint study on customer satisfaction by gender conducted with the Wharton School of the University of Pennsylvania. Hospitals were also screened based on clinical criteria.
"We are proud of those hospitals recognized for taking ownership of their customer experience and creating an environment that offers the best in healthcare services. We congratulate our winning hospitals for having earned the trust of our country's most significant consumer group," said Delia Passi, CEO of WomenCertified® and a leading national women's consumer advocate and author of "Winning the Toughest Customer: The Essential Guide to Selling to Women."
Women's Choice Award winning hospitals include:
Athens Regional Medical Center (Athens, GA)
Baptist Medical Center – Nassau (Fernandina Beach, FL)
Cary Medical Center (Caribou, ME)
Catawba Valley Medical Center (Hickory, NC)
Gibson Area Hospital (Gibson City, IL)
Great Bend Regional Hospital (Great Bend, KS)
Inland Hospital (Waterville, ME)
Kaiser Permanente – Santa Rosa (Santa Rosa, CA)
Kaiser Permanente – Orange County (Anaheim, CA)
King's Daughters Medical Center (Brookhaven, MS)
Lakeside Women's Hospital (Oklahoma, OK)
Morton Plant Hospital (Clearwater, FL)
Pikeville Medical Center (Pikeville, KY)
St. Elizabeth Healthcare (Edgewood, KY)
St. Mary's Hospital (Athens, GA)
Union Hospital (Terre Haute, IN)
Western Baptist Hospital – (Paducah, KY)
Wooster Community Hospital – (Wooster, OH)
The full list of 356 winners is available at http://www.womenschoiceaward.com.
About WomenCertified®
WomenCertified®, the voice of female consumers, awards businesses and brands of choice among women with the Women's Choice Award. WomenCertified represents the collective voice of women so they can help each other identify businesses that deserve our loyalty and referrals. The Award is based on consumer surveys, as well as research conducted in partnership with the Wharton School of the University of Pennsylvania on what drives the consumer experience for women vs. men, which led to the development of the Female Consumer Satisfaction Index. Visit http://www.womencertified.com.