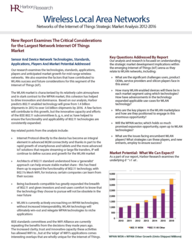 We believe that users and the market in general will demand interoperability...Wi-Fi has really got the edge in this respect
Boulder, CO (PRWEB) January 08, 2013
Harbor's Report "Wireless Local Area Networks" examines the technologies, standards, applications, players and growth potential for WLAN in the Internet of Things arena. Harbor's report analyzes Wi-Fi innovation potential and likely disruptive impacts across key markets and applications for sensor and intelligent device networks.
While the WLAN market has historically been characterized by its relatively calm atmosphere - in stark contrast to the Wireless Personal Area Network (WPAN) market – Wi-Fi technology is now poised for significant expansion into the sensor and smart device networking space. Based on our analysis, Harbor predicts 802.11 enabled technology will grow from 1.4 billion shipments in 2012 to over 3.6 billion shipments by 2016 with wireless sensor network applications contributing as much as 15% of total volume.
"WLAN technologies have the potential to address as many as 1-2 billion incremental nodes over the next three to five years if players deliberately push this technology into more sensor and Internet of Things applications," says Glen Allmendinger, President of Harbor Research. "We believe that users and the market in general will demand interoperability – users don't care about network technologies and protocols per se, as much as they just want everything to work in a simple straightforward manner and Wi-Fi has really got the edge in this respect."
Related analysis from the report includes:

Internet Protocol directly to the device has become an integral element in advanced M2M connectivity and thanks in part to the rapid growth of smartphones and tablets and the more advanced IoT solutions that require streaming or large file transfers, interoperability and Internet Protocol (IP) will continue to define success and growth for the Internet of Things market.
WLAN technology is advancing at a fast pace with significant investments in new features, speeds and ranges, particularly technologies that will overcome many of the size and power limits that have stood in the way of integrating radio technology more tightly with computers and other diverse digital devices.
Evolving 802.11 standards, particularly its ability to mesh, will expand Wi-Fi's reach into applications historically served by cellular/WWAN technologies.
This report is the second of a four-part series that explores all network technologies associated with the Internet of Things. Additional information about the report can be found at:
http://www.harborresearch.com/WLAN-report.
Who is Harbor Research?
Harbor Research, Inc. has nearly 30 years of experience in providing strategic consulting and research services that enable our clients to understand and capitalize on emergent and disruptive opportunities driven by information and communications technology. The firm has established a unique competence in developing business models and strategy for smart systems services and the Internet of Things providing industry leaders and category creators with the data, analysis, interactions and insight to remain on top.
For more detailed discussion about Smart Systems and the commentary on the marketplace, please visit Harbor's website http://www.harborresearch.com and blog at http://www.harborresearch.com/smart-business.
Contact
Email: info(at)harborresearch(dot)com
Website: http://www.harborresearch.com
USA Phone Number: 800.595.9368 or +1.303.786.9000
UK Phone Number: Cambridge, UK: +44.147.322.2251