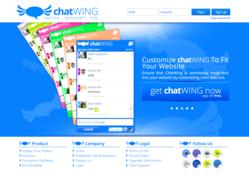 New York, NY (PRWEB) January 08, 2013
Alternative medicine, a strong and controversial health niche, is sporting a comeback this 2013. This fact is based on the numbers of websites and blogs created to spread awareness about alternative medicine. With vision, Chatwing.com has decided to expand in the alternative medicine niche and help web users spread information within a short time. The company developers committed to this strategic move by introducing a chat box with advanced communication features and social media potential.
The developers realized that having a chat box installed in a blog or website can contribute to overall visibility. Since the Chatwing chat tool is all about improved global connectivity, alternative medicine practitioners will be able to share their experiences at a fast rate. Moreover, their websites will become more popular and will reach hundreds and thousands of visitors from different parts of the world. The chatroom offers easy installation feature, wherein the user can finish registration in mere seconds. After that, he can now access the chatroom customization features in the application dashboard.
The overhauled chatroom dashboard is the result of feedbacks gathered from many web users who have tried the previous versions of Chatwing tool. One version after another, the developers were able to make the platform reliable and more easy to use. Aside from that, the new shoutbox allows people to use their social media accounts as login options.
Alternative medicine is just one of the popular niches that have been covered by the company. Other niches considered by the company's development team are 2013 trends, tech news, tech tricks, online gaming, finance, sports blogging, entrepreneurship, and global events discussions. These expansions will occur as 2013 progresses.
About Chatwing.com
Chatwing.com specializes in the new field of website chat. Over years, the development team has introduced live chat widget for hundreds and thousands of blogs. The application bridges people from many parts of the world, creating global synergy through the Internet. The shout box can be installed in just seconds, and it can be used for varying purposes such as leisure and Internet marketing. It also allows a user to customize the size, color, and name of the widget.