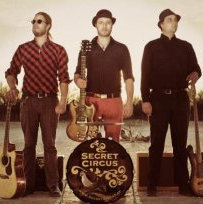 Santa Fe, NM (PRWEB) January 03, 2013
Santa Fe dining institution and reliable entertainment hotspot Cowgirl has been serving the goods to visitors and locals when it comes to great food and music since 1993. During 2012, Cowgirl brought entertainment in virtually every single night of the week, much to the delight of both locals and visitors. From 8-11 p.m., Wednesday, Jan. 16, 2013, the Cowgirl has scheduled Secret Circus to play a selection of the bands tunes for customers. Santa Fe, NM's premier on-line visitor guide SantaFe.com, has this event listed on the company's event calendar.
Secret Circus's Alternative and Classic Rock music is influenced by Blues and Gypsy. Fans and press have described the band as a mix between Johnny Cash and Dire Straits with a hint of Hendrix. The band enjoys making music that has a vintage 70's flavor, updated with its very own unique tone. Its honest songwriting filled with powerful and thought provoking lyrics. Who is Secret Circus? What is Secret Circus? When? Where? How? ...Secret Circus is a band and art collective fronted by Twins Klas and Joel Åhman. The band frequently tour in Europe and the United States. Every year the band flees the cold winter of Sweden and spends the season in its studio in Roswell, NM, where it's recorded mostly original owned material. Some short facts about Secret Circus: • Secret Circus resides on and rocks two continents; and Secret Circus will soon rule the world. You either love Secret Circus, or you haven't heard them yet.
About Cowgirl:
Since 1993, the Cowgirl, which now occupies almost the entire block where it started, includes a restaurant, a billiard parlor, a commercial catering kitchen and several private party rooms. The patio is one of the most inviting summertime venues for locals and tourists alike and the Cowgirl has become a local institution.
Contact Information:
Barry Secular
Cowgirl
319 S. Guadalupe St.
Santa Fe, NM 87501
(505) 982-2565
About SantaFe.com:
SantaFe.com provides locals and visitors to Santa Fe alike the most current interactive platform for events, music, arts, business, dining and lifestyle. SantaFe.com is a division of Hutton Broadcasting, located at 2502 C. Camino Entrada, Santa Fe, NM 87507
Contact Information:
Scott Hutton
SantaFe.com / Hutton Broadcasting
(505) 471-1067 (Media inquiries only, please)