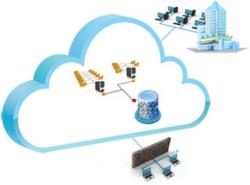 Your software is amazingly wonderful to work with.

- Laura Miller, Rayonier
St. John's, Newfoundland, Canada (PRWEB) January 10, 2013
DBGallery has a single minded focus: the organization and access of digital media across the enterprise. It does not attempt to be the swiss-army knife of imaging software. It provides a multi-user system to easily add, organize, and extract a company's digital media assets. This is offered as intranet and SaaS solutions (see diagram directly to the right).
DBGallery's 5.9 opens itself up a wider audience via significant performance improvements for larger collections, as well as improved setup and maintenance for groups of users.
The latest release also adds additional roll-out and access options. It may be fully hosted by its customers, or can be hosted in the cloud via a Software as a Service (SaaS) model.
PRICING
Pricing has remained the same since the release of 5.0. It is a free upgrade for existing customers. Pricing options range from a one-time $199 USD per-user license to $3.25 per-user subscriptions. Full details are available on the product's pricing page.
ABOUT GRR SYSTEMS, INC.
GRR Systems has been providing digital photography tools since January 2000. Those tools have evolved into it's current flagship product, DBGallery. It has customers in twenty countries across a variety of industries; primarily engineering, education and the sciences.