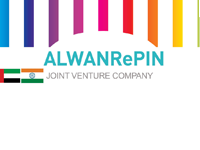 Dubai, UAE (PRWEB) January 05, 2013
Al Ahli Holding Group's Executive Director, Mr. Salem Khammas, personally plans to attend ArabPlast 2013 Expo, scheduled to be held from January 7th to 10th in Dubai UAE, for his new Joint Venture ALWAN REPIN LLC with one of the India`s fastest growing manufacturers of Innovative Masterbatches, RePIN Masterbatches.
Mr. Khammas is one of the most influential business men of the United Arab Emirates, and he argues that "Al Ahli Holding Group is always looking at innovative ways to expand and diversify the activities and sectors of the corporation. We see ALWANRePIN, our latest Joint Venture, as a way to enter new geographical boundaries identified in the Middle East & African Region. We are seeking new ways of marketing our flexible packaging products and are diversifying our market by addition of Masterbatches now to offer to our existing & new clientele."
For ALWAN REPIN LLC Directors, ArabPlast 2013 Expo, represents the perfect scenario for companies in the industry, that are looking forward to increasing their market participation degree and creating commercial bonds with different customers worldwide.