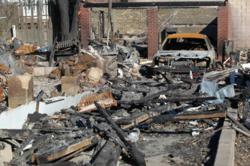 The analysis uses Department of Defense benchmark numbers to estimate potential job losses in those states. In terms of the unemployment rate, the estimate would likely be anywhere between 0.5% and 1% of national unemployment
Washington, DC (PRWEB) January 04, 2013
Human Alliance Ltd, one of Washington DC's leading HR consultants, specializing in identifying organizational and economic trends for their clients conducted an analysis on the potential risks and ramifications of the Sandy aid package currently being considered by Congress.
The aid package which would mostly target northeastern/Mid-Atlantic states such as New York and New Jersey who were most affected by the severe storm, which crippled businesses and caused severe destruction to those states' infrastructure, is currently being held without a vote at the US House of Representatives. Previously, there was an intended vote scheduled for the beginning of the new year (2013), but was delayed due to the "fiscal cliff" vote and other complications.
The aid package is estimated to be anywhere between $20 billion-$60 billion. Governors of the Mid-Atlantic and Northeast states affected by the storm lean towards requesting the higher end of that number while Republican congressional leaders insist that it must be the lower end of with potential additions in the future.
The Human Alliance's analysis estimates that if this package is not passed, somewhere between 500,000 jobs and 1 million jobs over the next two years will be lost.
"When Sandy hit the mid-Atlantic and the Northeast states it pretty much affected every sector of the economy, but the areas that were hit the most where industries like construction, retail, transportation, and professional services. The aid package would allow many of those industries to recover through some kind of stimulus program that the states would create for them. That of course will create additional jobs and will bring back some lost jobs.
But the major portion of what this bill can do is to create new jobs that did not exist prior to the storm in helping to improve, rehabilitate, and reconstruct the infrastructure of those states. Those types of projects are very much manpower intensive, which is why the majority of the monies that will be sent to the states will go into hiring workers rather than other things," Joe Shaheen, a leading HR Consultant and Human Alliance Managing Principal explains.
The analysis uses Department of Defense benchmark numbers to estimate potential job losses in those states. In terms of the unemployment rate, the estimate would likely be anywhere between 0.5% and 1% of national unemployment increases over the next two years. Most of those job losses would be in construction, technical services, business services, and government jobs.
The Human Alliance Ltd will be releasing the full report to its clients. If you are interested in seeing the full report please email contact(at)humanalliance(dot)info