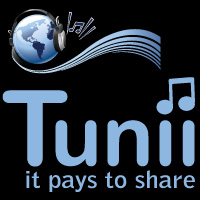 "Giving a great artist like Bret the best possible opportunity to get his music out to the world is what Tunii is all about. Paying the fans who help share and promote Tunii artists is the driving force behind their success."
Orange County, CA (PRWEB) January 07, 2013
"Lost is a song about finding the feeling of young love again in a long time relationship." Brett comments, "I chose to work with Tunii because it's the only platform that truly lets me "share" my music with the people that matter the most: my fans."
Brett's first solo release reveals tales of love, loss, affection and stark confession. Described as a cross between Bryan Adams and Johnny Cash, Drinking Poems is a portrait of raw emotional intensity.
"Giving a great artist like Bret the best possible opportunity to get his music out to the world is what Tunii is all about," comments Keith Harrison, President and Co-founder of Tunii.com. "Paying the fans who help share and promote Tunii artists is the driving force behind their success."
Brett has performed in venues ranging from the Whiskey a Go-Go in LA to legends in Nashville, building a solid reputation for belting out powerful live performances. His songs have also been featured on national TV programs including the West Wing, Dawson's Creek, Diagnosis Murder and Brooklyn South.
The digital revolution continues to impact traditional media. Now, with Tunii.com, the cost of promoting new music is crowd-sourced, eliminating the need for large companies to provide capital to push artists and bands. With Tunii.com, the fans provide the marketing mojo that an artist needs to be successful, with more efficiency and with no debt incurred by the artist. There are no long term contracts that restrict an artist's options, so the upside to musicians is clear. They get all the benefits of Tunii without giving away their publishing rights, leaving them fully in control of their work's true potential.
Some of the artists to be early adopters of Tunii include Brett Burke, Trophy Kids, The Dreaming Society, Luna 13, After, Flava Hype, Sarey Savy, Peratus, Lido Beach, Sovern and more.