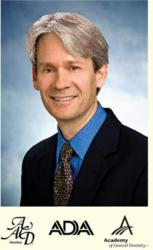 Reidsville NC (PRWEB) January 25, 2013
Reidsville, NC dentist, Dr. Joe Adams, recently achieved a 99 percent patient satisfaction rating for excellent care. Of more than 300 reviews left on Dr. Joe Adam's DemandForce.com profile, 99 percent of patients reported excellent satisfaction rankings of their experience at Caring Modern Dentistry, making Dr. Adams one of the most highly ranked dentists in the local area.
Reviews of Dr. Joe Adams report that he and his staff's concern for patient comfort along with their use of the latest dental technology to aid in patient care have made their dental visit at Caring Modern Dentistry unlike any prior dental experience.
"Dr. Adams and his staff are the most genuine, caring and professional people I've ever met," said Robert W., a patient of Dr. Joe Adams Dentist and Caring Modern Dentistry in Reidsville, NC. "A lifetime of bad dentist experiences and the fear of the dentist has been washed away for me by Dr. Adams. My wellbeing and comfort are always their main concern. They are truly an example for all other dentist offices to follow."
The goal of Caring Modern Dentistry is to provide patients with "a different kind of dental relationship." Other patient reviews show that this goal isn't just a sentence in their mission statement.
Suzanne H., another patient of Dr. Joe Adams, said, "I had the best dental appointment I've ever had at Caring Modern Dentistry. All the staff was super nice and took the time to welcome me as a new patient. Dr. Adams was very gentle and made me feel at ease. I couldn't have asked for a better experience!"
Caring Modern Dentistry in Reidsville, NC focuses on using state-of-the-art dental technology and techniques to ensure that their patients receive the best quality care and comfort during their visit. Some of the new technology recently implemented by Dr. Joe Adams Dentist at his practice include digital imaging for reduced radiation as opposed to conventional X-rays, intra-oral cameras for patient education, computer controlled anesthetic delivery, cavity prevention programs and more.
"The top priority of our practice is to treat each patient as an individual—to get to know them personally and not just treat them as 'the next patient' or a chart number," said Dr. Joe Adams. "We're delighted to hear that our patients are happy with our services because it means we're doing our job right."
Dr. Adams earned his dental degree from the University of North Carolina at Chapel Hill after pursuing a career in music for nearly a decade. Since entering the dental field, Dr. Adams has pursued an intense continuing education schedule to ensure that the treatments and technology used in his practice are the best in the industry.
For more information about Dr. Joe Adams Dentist or to read more reviews of Caring Modern Dentistry, please visit http://www.drjoeadams.com/ and https://www.youtube.com/watch?v=qMLzk8RIjRk