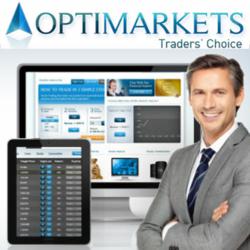 Our main goal is becoming the first choice as the place to go for a binary options trading platform, that's why we go the extra mile when it comes to improving the trader's experience
New York, NY (PRWEB) January 07, 2013
Optimarkets binary options broker gives traders the opportunity to select digital options trading, range, touch and one-touch trading. It also has the widely popular 60-second trading feature.
"We have been receiving very favorable feedback from both experienced and first-time traders," a company official said, adding that, "to date, our results have exceeded our expectations."
The more experienced traders have been gravitating towards two features that are not commonly found with competing binary options brokers, the company official said. He was referring to what are dubbed "close now" and "roll over."
With "close now," a trader has the possibility to cancel a digital option prior to the expiry time. In the case of "roll over," a trader has the chance to extend the expiry time.
The training opportunities offered on the platform include the use of videos which are top-notch in quality and content. Newcomers can quickly learn how to trade binary options – whether they involve trading stocks, currencies (foreign exchange), indices or commodities.
"Somewhat surprisingly, even our more experienced traders are taking the time to use our training resources and refresh themselves on the basics," the official said.
The platform is supported with a professional customer service staff which can be contacted by phone, e-mail or live chat.
"We always focus on the goal that we want OptiMarkets to become the first choice as the place to go for a binary options trading platform," the company official said. "With that in mind, we go the extra mile to allow traders to withdraw money free-of-charge three times during a month."
---
Lerwick Capital was started in 2012. It has since invested in OptiMarkets, a binary options trading platform. The mission of Lerwick Capital and OptiMarkets is to offer high quality financial services to its customers.
###