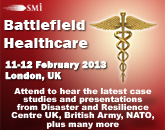 London, UK (PRWEB UK) 4 January 2013
SMi Group's Battlefield Healthcare will bring together members of the military healthcare and scientific communities for an advanced and focused update on clinical diagnosis and treatment techniques, lessons learnt from the frontline and panel discussions providing vital insight into the latest advances in military medical care and treatment.
A diverse group of topics will be addressed with discussion facilitated around the issues of dealing with Post Traumatic Stress Disorder, insight on detection and treatment of blast injuries for the avoidance of dormant symptoms from TBI, medical military training and lessons learnt from recent missions.
The two-day conference will encourage discussions where debate, dialogue, and networking are encouraged to foster greater understanding the future of military healthcare from the perspectives of the military, healthcare and scientific domains.
Hear presentations from and network with:

Lieutenant Colonel Robert Meijering, Deputy Chief of Training, NATO Centre of Excellence for Military Medicine
David Richmond CBE, COO Tedworth House and H4H Recovery Officer, Help for Heroes
Dr. Lauri Korgvee PhD, Consultant Anaesthesiologist, Estonian National Defence College
Dr Bruce Matthew, Consultant Neurosurgeon, Hull and East Riding Hospital
Dr. Pieter Bothma, Consultant, James Paget Hospital NHS Trust
Yoram Eshel, Director - Global Shipping & Logistics, Teva Pharmaceuticals
Paul McLeod, Director of Corporate Services, Defence Medical Welfare Service
Colonel Sharon McDowell, Commander, 201 Field Hospital
Dr. David Gaunt, Accident and Emergency Consultant, Watford General Hospital
Major General Alan Hawley (ret.), Professor of Disaster Management, University of Glamorgan
For more information about this event and to view the full programme, visit http://www.smi-online.co.uk/battlefield-healthcare30.asp
Alternatively, contact Teri Arri on +44 (0) 20 7827 6162 or email tarri (at) smi-online (dot) co.uk