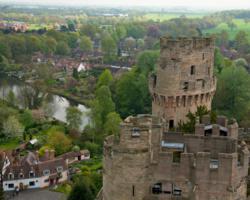 The local council is addressing the issues facing the town with its Area Action Plan, and I have no doubt that we will see a drop in company closures in the near future
Warwick, UK (PRWEB UK) 10 January 2013
The third quarter of 2012 saw a rise in company closures in Warwick, according to recently-released research by company formation agents, Duport.co.uk.
Between July and September there were 183 company closures, more than any other quarter in the history of the town. This figure also represents a 91% increase in company closures when compared to the same period in 2011.
Company formation numbers also dropped in the third quarter, leading to sharp decline in net company growth.
The local authority is currently working on a Town Centre Area Action Plan to address issues in the town centre. Public consultation on the plan finished in December, and the Draft Plan is expected to be available later this year. The aims of the plan include the regeneration and re-use of land and buildings, protecting areas particularly sensitive to change and bringing key agencies and landowners together to resolve any conflicting objectives.
Managing Director of Duport.co.uk, Peter Valaitis commented:
"Our report for Warwick shows that local businesses have been suffering, due to the tough economic climate."
"However, the local council is addressing the issues facing the town with its Area Action Plan, and I have no doubt that we will see a drop in company closures in the near future."
The Duport Business Confidence Report for Warwick uses accurate, up-to-date figures to give a snapshot of the local economy. More information can be found at http://www.duport.co.uk/warwick.
Duport Business Confidence Reports are generated and released by Duport Associates Ltd. The data contained in these reports is assimilated and analysed by Duport using public record data from sources including Companies House, Office for National Statistics and Ordnance Survey. Duport Associates Ltd is a leading UK company formation agent, established in 1997 and registering around 10,000 new companies each year through its Companies House approved software