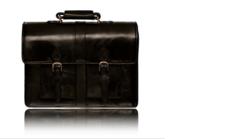 These bags are doubled up as secure and fashionable.
Kent (PRWEB UK) 7 January 2013
The Tuscan-Oxford is a smart looking leather bag manufactured by Visconti. The bag is tough enough to be used daily and can carry paper documents and even though it is not designed for a laptop, it can actually fit a 15.6 inch in its brilliant design. The bag has a great texture to the touch and with the design of the two front pockets; the bag has a top notch expression.
The Visconti Tuscan-Oxford leather briefcase has a mid pocket with a zip and equipped with an inner organiser to take pens, pencils etc. The rear compartment is also zipped and for a genuine leather briefcase, it only weighs in at 2.11kg.
The bag can be summed up as having an genuine touch of class combined with practicality
Visconti has for many years been creating quality leather briefcases and bags and Visconti has become a name that consumers can trust for durability. The bags are designed to be able to be used for any occasion and the internal and external pockets are designed to keep items secure, so these bags are doubled up as secure and fashionable.
Luggage Superstore's established site is in West Kingsdown, Kent. Their aim is providing competitive prices of the highest quality luggage and top calibre Customer Service for online luggage shopping.Luggage Superstore recommends Samsonite Luggage: - http://www.luggagesuperstore.co.uk/samsonite-luggage/b6
Trina Chee-a-kwai
Luggage Superstore
01474854666
Email Information