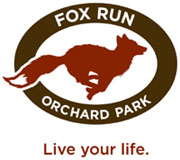 "I knew it would be exciting for us, but I had no idea so many other people would be interested." - Rosetta Newton
Orchard Park, NY (PRWEB) January 04, 2013
Fox Run At Park, a distinctive New York continuing Orchard care retirement community, announced that they displayed a stunning photography exhibit this past year at their Gyda Higgins Art Gallery. The exhibit, Perspectives of Newton Farm, was distinctly unique because the gallery quality photographs were the work of residents of Fox Run at Orchard Park.
The residents, whose photographs were on display, participated in a photo safari of nearby Newton farm, led by professional photographer Katie Schneider, who was awed by the residents' differing perspectives. "Seeing beauty through so many different eyes--it's really amazing," said Katie Schneider.
The photographs were displayed in the community's art gallery and community members and residents took a tour of the exhibit discussing the photos and reminiscing about their day at the farm. One resident, Bob Seifert recently became interested in photography, citing it as his first hobby at the age of 80. Another participant, Bill Russell says that he received a camera as a child and that he usually photographs people, but welcomed the opportunity to experiment with nature scenes. The photo safari and resulting photo exhibit were deemed an overwhelming success, uncovering hidden artist talent in the community at Fox Run.
Fox Run at Orchard Park CCRC, is a proud participant in the WNY Alliance for Person-Centered Care, the first community-wide initiative of its kind in the U.S. aimed at transforming the way nursing homes and senior care providers deliver care to elders. For complete information about the events and community life at Fox Run at Orchard Park, call (716) 662-5001 or visit their website at http://www.foxrunorchardpark.com.
About the company:
At Fox Run, residents are surrounded and supported by a family that includes fellow residents and Fox Run's staff, directors, board members, and our sponsor, The United Church Home Society, Inc. All working together, this family is committed to providing the best senior living experience possible to all the residents who live here.
Within no time, residents be on a first-name basis with neighbors – not to mention the executive chef, healthcare administrator, executive director, and all of the Fox Run family.